Posted By:

Marty
Tourists Almost Lost To Currents On Macal -

09/29/10

02:32 PM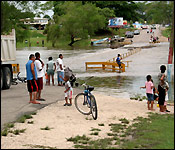 A trio of European tourists almost drowned in the Macal River today and a Cayo tour guide faces charges after putting them to canoe down a roaring river. Police say that this morning tour guide Kenny Cadle of San Ignacio rented them a canoe and took them up to the Negroman area, which is around Chaa Creek for them to canoe down to San Ignacio, unaccompanied.
It is a perilous journey - particularly with the river very near to flood stage - and full of deep, swirling currents. The trio comprising Frenchman Brian Rousseau, Frenchwoman 24 year old Stephanie Lew and 22 year old Briton, George Pembrew capsized shortly after setting off.
Pembrew managed to cling unto the canoe and swam to safety - but reports are that it took him an hour to get there as he battled the currents. Lew and Rosseau weren't so lucky, they were carried away in the currents and saved by the manager of the Mayamistic resort. Tom Thomas who is the owner of Mystic River resort told us that he and his workers saw the pair floating down the river - and they were rescued from the water by the workers and taken into the town to report it. He tells us that was around noon - which means that they had been tossing on the river for about an hour. He told us his resort is an hour by canoe from Negroman. By noon, after quite the ordeal on an angry river, all 3 were safe and accounted for. Police say that Kenny Cadle will be charged for operating without a tour operator's license.
Channel 7