Posted By:

Marty
Counteraction In Cayo South -

03/16/12

02:11 PM
As we've reported, there's a new Area Representative in Cayo South. The PUP's Julius Espat crushed his opponent Ramon Witz to emerge as the area representative in one of the country's largest divisions - but he's already run into trouble with the UDP Chairman of Teakettle Village.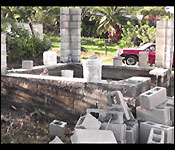 It happened today in the Arizona area of that village where Espat is sponsoring the completion of a bus shed. He got villagers to chip in with labour - and work was proceeding today with seating and columns for a roof.
But village Chairman Matthew Patnett wasn't happy and someone called police to arrest the young men who were working on the shed. That's just what Belmopan police quite inexplicably did - and the young men were taken into the station.
As these images from PLUS TV show - shortly after that - hostile forces proceeded to smash the shed and reduce it to rubble. It is the ugliest kind of political tribalism - and more than that, it denies the area a bus stop - which would be used by students. We understand that the two workers have been released but warned by police that they are not to return to the site.