Posted By:

Marty
FIFA Standard Football Field In Twin Towns -

01/22/14

09:45 AM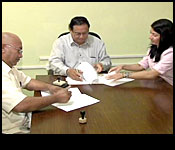 Belize Infrastructure Limited, known as BIL has 60 million dollars to spend on sporting facilities across Belize. And today it signed its first contract in the districts, specifically in Cayo. Area representative and minister of works Rene Montero signed a preliminary contract for a FIFA standard football field in the municipality. We found out more form him and the newly installed General Manager:..
Hon. Rene Montero, Minister of Works

"We just sign what you called a feasibility and design project for the upgrading of the Santa Elena sporting complex. It is a 2.5 million dollars project which will take us about 6 months for the design before we start putting out the tender for the construction of that football field."
Reporter
"How soon will we see works beginning?"
Hon. Rene Montero, Minister of Works
"I should think around June/July, that's our target date. Once we get the feasibility study and design then we will put it out for tender and then we will get it going."
Christy Mastry
"Today we sign the contract for the feasibility design and engineering services of the Santa Elena football field complex which is a 13 acres site which will house both a practice field and a FIFA qualifying playing field when it's complete."
Reporter
"In terms of the other projects that are taking place, what are some of the upgrade we will be seeing?"
Christy Mastry

"We are focusing a lot on multi-purpose enclosed court sports in most of the municipalities; we are looking at basketball and volleyball particularly to heighten the facilities so that the practice can continue and also heighten the standards of play and also for football throughout the country. Those are our 2 main mandates; the sports that we are really focusing on."
Though we're not sure if the politicians or the technicians are guiding the process of selecting facility types, the BIL board has broad based representations from social partners and sporting bodies.