Posted By:

Marty
Belize's Most Perilous Bridge Upgraded -

12/23/10

03:44 PM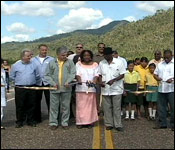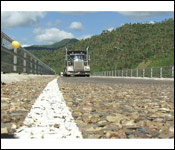 The Middlesex bridge is one of the most historic crossings in Belize - dating back to 1907 when it was part of the railway system.
It was replaced in the early 80's but was considered one of the most unsafe bridges in Belize because of inadequate construction.
Well, it was rebuilt to modern specifications with European funding and opened in June.
And to thank the funding nation, it was officially opened yesterday when the head of the European Union delegation to Belize Ambassador Marco Mazzocchi Alemanni visited.
Speaking at the inaugural ceremonies Minister of Works, Anthony Boots Martinez thanked the European Union for placing the Middlesex bridge as priority in its scheme of financing.
Hon. Anthony "Boots" Martinez, Minsiter of Works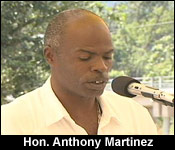 "The new 244 feet bridge crossings most historic as it was path of he Stann Creek rail way system that was built around 1907 and operated by the United Food Company. The original bridge in the vicinity was replace in 1982 which was a acrow panel bridge that was not galvanize and as such had a relatively short life. We are extremely grateful Mr. Ambassador to the European Union Commission for affording high priority to this very important safety intervention."
"This project produce an innovative economic rehabilitation of the old bridge by widening its existing concrete span and replacing the badly corroded steel mid-span thereby converting a narrow substandard 4 span structure to a two lane 6 span structure with dual sidewalks. This upgrading was executed with such harmony that it appear to be a totally new bridge even though all original structural support were used and none demolish."
Financed by the European Union and Government of Belize, the reconstruction of the bridge cost 2.2 million Belize dollars. There are other century old bridges on the Hummingbird that are also slated for repair and replacement.