Posted By:

Marty
Oracle Charged For Psychic Pretense -

09/08/10

02:25 PM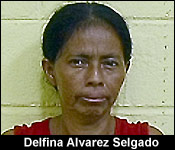 One woman who police say misled the community as to the children's whereabouts has been charged. She is 42 year old Delfina ALVAREZ SELGADO, a Housewife of the Water Supply Area, in Punta Gorda Town. She has been charged for the rarely used offence of "PRETENDS TO TELL FORTUNE."
She pleaded not guilty to the charge and received bail of $1500.00Bcy. She will reappear in Punta Gorda Magistrate Court on October 12, 2010.
Selgado is the one who was consulted by the desperate community and allegedly gave general information which was interpreted to suggest that the children's disappearance was somehow linked to the home and property of Vincent Rose. That home was burnt down on Sunday morning. This footage was taken a short distance from the home shortly before the fire started. It shows an armed mob gathering.
Many of those persons were later detained at the Punta Gorda police station where they were also disarmed. They were released shortly after.
Police have not detained or charged anyone for the apparent arson at the Rose property. The Toledo Alcaldes association has announced that it will be holding a public meeting in Punta Gorda town tomorrow to give their version of what happened on Sunday….
Channel 7
---
This offence is found at Section 3-(1) (viii) of the Summary Jurisdiction Offences Act, Chapter 98 of the Substantive Laws of Belize, which states
" A person who Pretends or professes to tell fortunes, or uses any
Subtle craft or device by palmistry, obeah or any such
Like superstitious means to deceive and impose upon
Any person whomsoever; "