Posted By:

Marty
Benny's Belizean Megastructure -

09/02/10

01:57 PM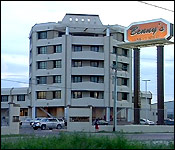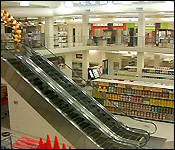 It is among the tallest structures in Belize and The long anticipated opening of the multi-million dollar Benny's Superstore mile 2 and a half on the Northern Highway took place today.
Our team was as curious as anyone else and found that the new six story mega structure offers a few welcome perks to customers.
Jim McFadzean, Reporting
It stands six storeys high and boasts more than 18,000 cubic feet of space, making it one of the most spacious commercial shopping centers in the old capital. So why all this space?
Sean Feinstein, Managing Director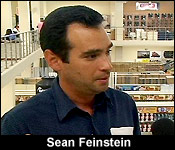 "We have been in the same location for quite some time now, the company has expanded its lines; 3,4,5 fold over the years; we've gone into equipment; we've gone into appliances; we've gotten much deeper into the tool line, heavier into lighting and we basically outgrew our space 3 or 4 years ago."
While space remains a premium at the old Benny's showroom on Regent Street, as one can see behind me, there is no shortage of that here at this superstore.
Not only has Benny outgrown its location on Regent street says Sean Feinstein, son of Ralph Feinstein the man behind the multi-million dollar expansion of a company that's been doing business in Belize for more than sixty years, the mega-structure is a sign of the company's confidence in the struggling Belizean economy.
Sean Feinstein, Managing Director
"This is a Belizean company and this is a Belizean family, we definitely are rooted in Belize for many years. Benny's started out in 1947 and a lot of people did not realize that, with my grandfather. So yes we would not have done this if we did not have the confidence in the Belizean people; if we did not have the confidence that Belize will continue to grow in the future."
This multi-million dollar structure comes outfitted with all the modern conveniences, easy accessibility being one of them.
Jim McFadzean
"First impression?"
Debbie Ordonez, Shopper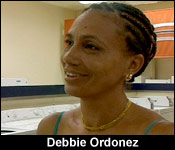 "I didn't feel like I was in Belize City, I feel like I was at Best Buy in Miami; comparison."
Jim McFadzean
"Is it going to make it easier for people in Belize to shop for high end items?"
Debbie Ordonez, Shopper
"I would think so, it's a one stop, I mean everything is here so yes I would have to agree with that."
Jim McFadzean
"What's your opinion on the prices?"
Debbie Ordonez, Shopper
"I really haven't been looking at the prices yet except for the exception of a fan, but with the discount right now, I think it's awesome."
Jim McFadzean
"And then what stands out for you?"
Debbie Ordonez, Shopper
"Like I said it's a one stop so that's in itself say a lot."
Jim McFadzean
"What's your first impression of this place?"
Dale Henderson, Shopper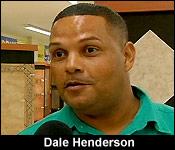 "Quality, appearance; definitely a plus, absolutely. I think they have a variety of stuff that you normally won't be able to get anywhere else. So I think it's a fantastic here and the quality of the features of the place is just impressive."
Jim McFadzean
"You believe that this is a striking difference for the old Benny's?"
Dale Henderson, Shopper
"Absolutely by far this is the more like your Home Depot, Lowe's in the United States. I would compare it to those by far, it is right up there with them."
Alejandrina Burns, Shopper
"I thinks it's wonderful. It's giving our country a boost."
After 60 years in business, not only has Benny's changed the landscape and the skyline of the old capital, but it has now changed the way Belizeans shop", Reporting for Seven News, I'm Jim McFadzean.
The architect was Thurton and Associates and the contractor was David Medina....
Channel 7