Posted By:

Marty
Living like dogs... -

10/06/11

02:04 PM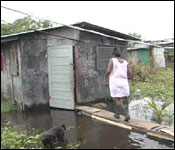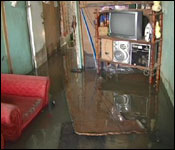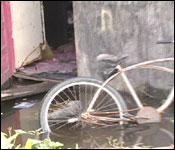 The rains came down in torrents over the weekend - particularly inundating Belize City.
For most, it was an inconvenience having to deal with flooded streets or yards, or maybe a leaky roof.
But for the poverty-stricken, living in abysmal housing conditions - heavy rains are like hurricanes; their dilapidated structures sag and wilt under the pressure of relentless showers.
Yesterday morning Monica Bodden went to the far end Freedom Street area where she found people being prisoners to porous homes:
Monica Bodden Reporting
We had to walk through a submerged path and then onto this makeshift bridge - the kind we refer to as London bridges.
That's the only way to access these houses behind this area - For some of these neighbors, they get around in rubber-boots.
It seems that these residences are secluded on an island - an island behind the Port Loyola Area.
Roselle Arzu - Resident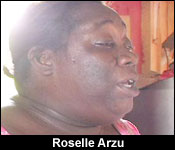 "The condition of my house is really rough because my house is filled with water and insects at night, and it scares my children. It is really devastating."
Roselle Arzu is a single mother of 5 children and says every time it rains, her entire home floods out. This has been happening for the past year - after her house collapsed during Hurricane Richard.
Now, when it rains the water comes up through the flooring of her bungalow home... To make matters worse, there is boa constrictor living in her ceiling of the bedroom. That's right, a snake... and it has been living there for the past 3 days.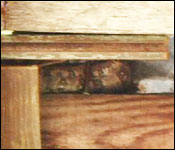 Roselle Arzu
"Well, we have that snake up there for 3 days now, and sometimes it moves from there and goes in front of the bed. It then returns right back up there. It looks like that's its home up there."
Monica Bodden
"How many kids do you have?"
Roselle Arzu
"I have 5. They are scared because when they see the snake at the edge of the bed, they put me to sleep there because they are afraid. Sometimes they don't even want to come into their own house. They stay on the street, and are afraid to come in, so I don't know."
Arzu suffers from Asthma and has recently been hospitalized.
Monica Bodden
"As you wake up, it's right into water."
Roselle Arzu
"Straight into water, and I am an asthma patient. I have a record of having asthma at nearly all the health centers when I go and get my nebulizer. As I get up in the morning, it's straight into the water."
Monica Bodden
"I understand that you were lately hospitalized with asthma."
Roselle Arzu
"I just came out of hospital about 2 weeks ago, and I still have to go for a checkup. But because of the water, I can't go anywhere. Even my bridge isn't strong enough for me."
Monica Bodden
"This happens every time it rains?"
Roselle Arzu
"Well, it happened in the last year after my house fell after Hurricane Richard. That's when it happened. Whenever it rains to a certain extent, my house gets filled up."
She says she has been back and forth seeking assistance at Minister Boots Martinez's office - who is her area rep...
Roselle Arzu
"I haven't met him in person. I always meet his secretary, and they came and did an assessment at my house. They took pictures, and they promised me that they are repairing houses. They said that they will come and check back with me. It's over 1 year now, and still nobody has come. I haven't heard anything about it. My house fell in Hurricane Richard. I would want that the minister to see that I have to go this far, so that they can try to help me at least, for the sake of my kids. We can't stay in house, and there is no shelter open for us. It's not even hurricane yet. So we need to do something better than this, because we are doing badlly right now."
Juan Canek - Resident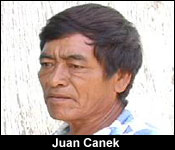 "Every year it's the same thing. I get flooded every year. I always go to visit Mr Boots at his office, but he never sends his supervisor to check on my situation. I need this help..."
Juan Canek says he has lived on Freedom Street for the past 15 years - and the flooding situation has become worse.
This was what inside Canek's house looked like after the heavy rains on Monday.
He took us on a tour.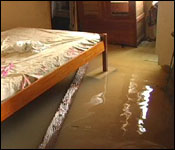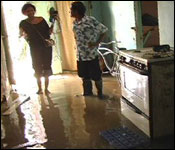 Makeshift walkways had to be laid down on the floor for him and his family to get around. The entire house is flooded in muddy water - unhygienic for Canek's 4 grandchildren.
Juan Canek
"The problem is at the back there is a lagoon and when it rains it gets flooded and reaches our home. I need help from the government. They should go and refill the area so the water stop can run in."
He explained to me that the water sometimes stays up to 15 days before receding.
Juan Canek
"When there is sunlight the water goes down quickly but when it's raining it takes about 15 days before the water goes down."
We were unable to reach area representative Boots Martinez for comment.
The Snake was removed from out the ceiling today by Arzu and her children. They say it was about 6 feet long. But snakes are not the only thing these residences of that area have to worry about.
They also told us they have spotted crocodiles on numerous occasions. And some believe that these crocodiles reside under the houses in the swamps that lurk beneath.