Posted By:

Marty
Nineteenth In The City Was Unusual -

11/22/11

02:15 PM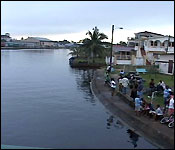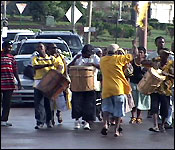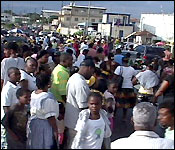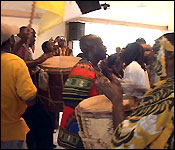 And while he was in Dangriga for the nineteenth - we were in Belize City - where the ceremonies offered an unexpected twist this year.
Everyone was waiting at the Belcan bridge for the re-enactment players to arrive, but they came from another direction. Here's how it played out...
Jules Vasquez reporting
Spectators lined up along the riverside near the Belcan around 7:00 and looked out to the water for the first sign of the dorey and the drummers - the central piece of the re-enactment event.
But for the first time ever - they came not by river, but by road. The drums and the singing were the same - except there was no dorey, just feet on the wet pavement
Call it the first postmodern Yurumei if you want, but president of the Garifuna Council in Belize City Matthew Martinez says it was a mechanical failure:
Matthew Martinez - President of the Garifuna Council in Belize City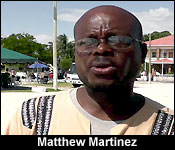 "What happen is that it wasn't miscommunication, something went wrong with the boat, so what happen is we had to shuffle the participants in the re-enactment to the bridge so they we could parade from there to the church."
And while it did not look like any re-enactment we had seen before, once it got to the procession, the spirit was the same - celebratory and carefree- as they went to St. Martin's Church for the annual service:
Matthew Martinez
"The Garifuna culture itself has gone through various changes throughout the years but I would still consider that the Garifuna culture is very vibrant and alive in Belize as well as Central America today. Actually I would say it is alive worldwide."