Posted By:

Marty
Mega-Bridge across Mini-Creek Finally Opened -

12/14/11

01:53 PM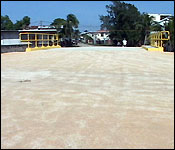 It may not quite be one small step for mankind, but it is an inch or progress in a place where there had been no movement for years.
The bridge spanning north and south creek roads has finally been fixed and is now in use.
As we had reported, the massive bridge looked impressive but was useless for months because it was too big for the area. Well, now the ministry of works has had to build up the approaches, and put in culverts in front of people's homes for drainage, but it's working and it looks good.
Previously, there was a wooden pedestrian bridge across the creek.