Posted By:

Marty
BML Workers Rage Against City Hall -

01/11/12

03:36 PM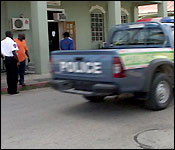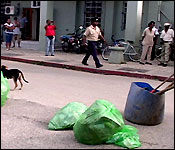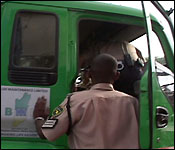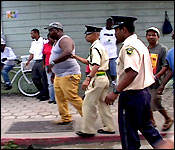 There are exactly two months to go before Municipal elections - and every town and city council should be trying to keep things as politically safe as possible - minimizing controversy and maximizing work on the ground.
But at the Belize City Council, it seems controversy is always only a breath away - and today a full-fledged embarrassment erupted in plain view right in front of city Hall.
The city council says Belize Maintenance Limited, BML is not cleaning the hotspots as it should, so it gave that part of the contract to Belize Waste Control. But what seemed like a good idea at the time today left the council with garbage on its grill. Here's what played out at City Hall:..
Monica Bodden reporting
Police had to be called in front of the Belize City Hall this afternoon - to keep the peace. As a group of angry BML workers -launched a spontaneous protest in front of the building.
The protestors - no more that 20 - were informed by their employer Lawrence Ellis - that they no longer had a job with the company - after a contract between Belize Maintenance Limited and the Belize City Council was cancelled by the council.
Protestor 1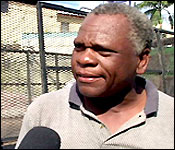 "We went to work at 12:30. Mr. Ellis came to say that as far as they are concerned we are out of a job because City Council has canceled the contract, so that's why we are out here."
"Mr. Ellis says that there was no reason and no warning. They just cancelled it. Now how are we going to feed our family?"
Monica Bodden
"How many of you guys are employed with Mr. Ellis?"
Protestor 1
"The entire truck crowd, about 20 of us or more."
Monica Bodden
"Just today you found out that you all don't have a job?"
Protestor 1
"It happened just now. We are out of a job and I have expenses; I have children going to school. How will I eat? How will I feed my children?"
Protestor 2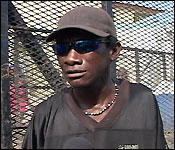 "They are chancing us. What happened to the UDP? They say that when they are in power that they will help poor people. We don't have a job now. What will we do now?"
Protestor 3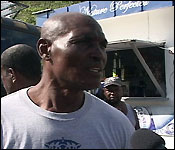 "Every time they are in office this is what they do. They take away the jobs from the people and leave them helpless. You heard the man cry about his young child that he cannot feed?"
Protestor 4
"Right now I don't feel happy with those people because they don't even give us notice that we will stop work, and right now we have bills to pay and children to feed. These people have to go. Dean Barrow is playing out here, they are playing with our food and our job out here."
"Right now we are discouraged. They have to go because they are playing out here. They can't come and take bread out of our mouth like that. They are playing crazy. They are playing lost."
Protestor 4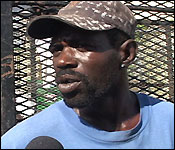 "We want back our job. That is how we survive, and we have to take care of our children too. We don't want to go to a negative behavior. We want to stay positive, and that why we are working. This is garbage, lots of people don't want to do this job, but see we bear with it because we know that we have our responsibilities."
Protestor 5
"We had a meeting with our boss. He notifies us that the City Council is taking the contract from him to give to Belize Waste Control. Why do they (City Council) want to do that to us all of a sudden? Why don't they do Waste Control; take away their contract too. Sometimes we are in the rain, under the sun picking up dead dogs. All kinds of things we do, and now they say that they pay the boss so much money, but we get our work done. Why don't they complain about Waste Control too?"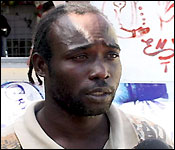 "We have house rent and everything else to pay. We only get $169.00 a week. Suppose we go to rob and thief people now, what will they say about that? Nothing, that's why we work to keep our jobs."
Protestor 4
"All of us are upset because it's without any notice. Even if they had notified us we would understand, but we already know that this is a political thing and we are more mad because of that. They put politics to try and take away bread from our mouths. Why do they prefer to take away our contract to give to Waste Control? Aren't we doing a good enough job for them? Our money that we were getting is now going to Waste Control. They already have their contract. Why do they want ours too? Is it because they are greedy or what? We want to know what the problem is. Are we doing our job good enough? Are they satisfied with the way we do our job?"
"We have the place clean. They check all our hotspots by 9am and 10am. We start to work at 6 in the morning rain or shine, cold or hot and by 9am they have their councilors that ride around to check. Our hotspots are clean. We do our job. We don't deserve this."
"Then if they (UDP)say they are for the people, we are not the people too? What are we then? Are we dogs? We are not human beings too then?"
Protestor 6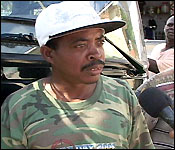 "The last time they came to our office to tell us to vote for them and now they turn around and do this to us? They set us up."
Protestor 1
"I want to say to Mr. Barrow, the Prime Minister of this country to have a heart. I have a young child and another going to school. How will I feed them? Will you feed them for us? Stop playing politics! We want back our God damn job!!"
While the BML workers were protesting - At one instance the BML trucks made their way in the middle of the busy street and began dumping garbage in front of City Hall.
Police quickly made their way inside the truck and everyone inside the truck had to get out.
Meanwhile some of the other workers picked back up the bags of garbage from off the street; police escorted the driver of the truck to the police vehicle where he was taken away to the police station.
The truck was impounded by police and taken away to the station as well.
Roger Espejo - Sanitation Councilor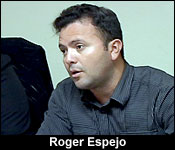 "Let me begin by telling you that BML holds a contract with the Belize City Council for sanitation services. That is again clearing of drains, cutting the grass in the parks, doing sweeping and cleaning of city streets and that's a contract that they have held for years. The contract that we presume and I say presume because we have not gotten anything from them official in writing as to why they were here today. We presumed that they were referring to a verbal contract which we had in place with them since January of last year, approximately a year ago which is to clean up the hotspots. Now for the hotspots which are 72 in number and spots in the city where residents throw garbage and where there needs to be a long term solution for that and more, enforcement will come for that to be diminished. The fact of the matter is that hotspots are created throughout the city especially in alley ways and in the deep urban areas and BML was contracted to clean up those hotspots. Now this was a verbal agreement really that we had in place last year and the council voted to end that agreement with the company and that was a decision that the council made rightfully, legally and the council has to stand by it."
And while that is the city council's side of the story - BML also has their side.
The verbal contract between the council and BML was for BML to be responsible to clean up the city's hot spots on a budget of 5 thousand dollars a week. It is a small contact between the two parties - but none the less, it provided jobs for at least 15 workers. That contract is now being given to the Belize Waste Control and here's what the BML boss had to say about it:..
Roger Espejo - Sanitation Councilor
"The agreement for them to pick up hotspots will continue with Belize Waste Control. So, the service itself will go uninterrupted, it will still be provided, just that it will be provided now by Belize Waste Control instead of Belize Maintenance Limited."
"The contract was discontinued because; one: the Belize City Council felt that Belize Waste Control ought to be providing it. They have been providing sanitation services for years now and the council feels that they are a better performer and so they decided to give this sub-contract if you will - it's a major contract, the sub-contract of cleaning up hotspots to Belize Waste Control."
City Council Representative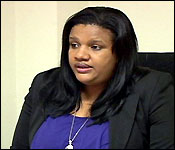 "It's a very small part of their contract, we pay them $5,000.00 a week to do this while the entire contract that they have with us is for $75,000.00 a week."
Marion Ali, Love FM
"But to the person out there cleaning......"
City Council Representative
"Yes we understand that, but we also have to look at the general public. Is the public out there satisfied with the way those hotspots are being dealt with?"
Lawrence Ellis, Owner BML
"It's really an unfortunate situation. I got a fax about lunch time that the service of providing for the removal of the hotspots has been discontinued. I wasn't here, I got a call and I came and I saw the fax. Just for the record it's not only the hotspots that are included in that money, it's also the garbage bags that we bag up every day. That was also included but I guess the letter only had the hotspots."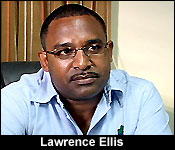 "I informed the workers of the situation and they were a bit annoyed. The unfortunate part is that the service was discontinued yesterday without giving the workers notice. They have to give the workers notice. I can't just terminate their services either without giving them notice and I told them that I would go see my attorney to see what's the legal position on this. They got riled up and they decided to go out there, it's true I didn't stop them but I did not send them out there."
"The Council has all right if they want to discontinue that service because we do not have an official contract. We were supposed to get one but it never did happen."
"We hired workers to provide this service; we bought three trucks to provide this service. As a result 15 workers would be affected."
We understand that BML workers did not have a protest permit - which made it an illegal protest - strictly speaking. Lawrence Ellis, managing director of the Belize Maintenance Limited told 7news that the company will keep their 15 men and women and find something else for them to do.