Posted By:

Marty
City Hall's Pay Mistress Fired -

03/21/12

02:55 PM
For "Substantial" Missing Sum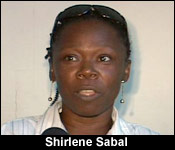 Belize City Mayor Darrell Bradley today confirmed that former council pay mistress Shirlene Sabal has been dismissed - as the council awaits the outcome of an internal audit - which should be completed by the end of the week.
She was suspended the day after the new council went into office - but he today told us that they have taken the decision to dismiss her because the sum of money, which was misappropriated under her watch, appears to be "substantial."
As we've reported, she is accused of engineering a daring scheme that cost the council tens of thousands of dollars in bogus overtime payments.