Posted By:

Marty
Horse And Buggy Operators Slam City Hall -

10/17/12

12:35 PM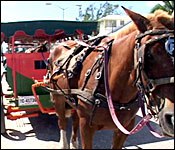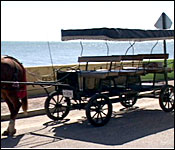 This morning, 7News was called out to the Belize Tourism Village where the owner and employees of 4 of the horse and carriage companies were gathered in solidarity to speak to the media about a grievance that they have with the Belize City Council.
According to the owners and employees, City Hall issued a stop order against them because they don't have valid trade licenses. The city council refused to accept payment for new licenses because they are not in compliance with several regulations.
It's an issue where the owners and operator saying that the council is being unduly harsh with them, stopping them from earning their living.
Here's how they explained it:
Keith Jones, Owner - Sunset Horse & Buggy
"Last Wednesday we received a stop order that all the horse and carriage owners should stop operating out at the tourist village. There are 4 companies that probably have about 40-50 workers working with us."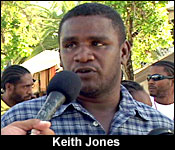 Daniel Ortiz
"Have they explained why they wanted you stop?"
Keith Jones
"The letter states that basically we don't meet all the requirements for the horse and carriage act. One of the main requirements that they had require for us is to get the horses out of the city - a stable out of the city. They gave us a piece of land at the their workshop at 4 miles and two of the companies started building their stables there and they stop them from building it saying that we shouldn't build here we should go and build in the swamp. They say the swamp will cost us $35,000.00 to fill up. The country doesn't have money; the city council doesn't have money, how can 4 horse and carriage companies find $35,000.00 to fill up a swamp to build stables there. There is no way in the horse and carriage act that a horse should not be in the city. The only animal that shouldn't be in the city is a pig. I don't know what is the situation now and we have come to the point that we are not working today. City Council has refused to accept our monies for the trade license - that is not our fault. We try to pay it, we went in to try to pay on Friday and they refuse to take our money."
Daniel Ortiz
"Why are they refusing to take your money?"
Keith Jones
"I guess for the simple reason that they don't want us to take the stable out if the city."
Dennis Gabourel - Gabourel & Sons Horse & Carriage Co.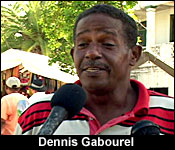 "We are here today to suggest our point of view because of what the City Council is doing to us. They tell us that are not going to let us operate simply because we don't meet their requirements such as stable for the horses. A councilor Mr. Theus came and ask me how quick can I take down my stable and get it on the 5 miles compound, I said quickly sir and I spent like $600 to build the stable. I took it down and I take it to the City Council compound at 5 miles on the western road. When I get up there I've been push around like a kid. I was already digging the hole and they said that I can't build there. I went to another to build and they told me no, it's over there. It's a swamp way up to my knees. We are supposed to find $35,000.00 to fill up this swamp and build our stable out here. Now, where are we going to get $35,000.00 to do all this?"
And this afternoon, we got a chance to speak to Belize City Mayor Darrell Bradley, who told us that the council did not ambush the horse and carriage operators as they are claiming.
He said that the council has been tolerant of non-compliance for over a year, and enough is enough.
Here's how Bradley explained City Hall's position.
Mayor Darrell Bradley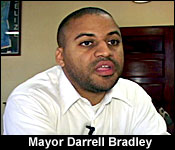 "First of all I do recognize that these people have a right to operate their business and the City Council is not in the business of shutting down businesses within the city. This is something that we need to work out. This is something that we've been consulting with these persons since before I became mayor."
"There has been a committee that has been set up comprising members of the community and involving all the horse and carriage operators and that committee has been meeting for a period for over a year and they have together established a series of criteria under which all of these operators have to meet and we gave them an entire year to be compliant. One major outstanding issue is that the operators a lot of times caused a nuisance in relation to where they housed their houses within city limits and in a lot of cases they housed their horses right next to residential properties and we get complaints from residents in Belize City that these things caused a nuisance - very serious complaints. We have had to address these complaints and we have given ample time for these persons to comply with the requirement to ensure that they have a stable which is the main outstanding issue within reasonable distance of residential areas."
"The City Council has gone even as far as providing land for these people at mile 4 so that these people can used the property there if they don't have alternative properties for a stable and they housed their horses there. We tried to meet with them, we issued the stop order but the stop order was not a first step that we did, actually that was the culmination of a yearlong process where we've been trying to get these people to be compliant and even after the stop order we've been meeting with them trying to ensure that they are able to operate a business but that they also understand we are serious in the city about enforcement."
Daniel Ortiz
"Sir, one of the complaints they have with the area which you guys designated as the area that you would prefer to house the horses - they are saying its swamp and they are saying they have to find something around $35,000.00 which they don't have to address that issue."
Mayor Darrell Bradley
"Let me the clear about that issue. The City Council did not designate any area that they have to use as a stable and the City Council is not responsible to provide facilities so that people operate a business. If you want to be in a business you have to ensure that your business could be operated in a safe manner. As a compromise, since we've been meeting over the last year the City Council indicated to the operators that if you don't have a stable property then we will provide you a property at our mile 4 facility but we can't be expected to retrofit the property for you and build the stable for you. It's your business and you have to invest in your business. If they have alternative properties that they want to use as long as it's not within a reasonable distance of any property or any residence then they can use that."
As Mayor Bradley indicated in the interview, they have been meeting with the owners and operators, and today another meeting was held after the operators spoke to us.
And it seems, both sides have reached an agreement. One of the operators called us back this evening, and said that they have reached a compromise on the horse housing issue. However, due to the fact that the terms were still being discussed, he couldn't give us details, but he did say that the operators have agreed to use the designated area that the council has given them.
It is expected that when they are in compliance with all the regulations, their licenses will be renewed.