Posted By:

Marty
Lobster Fest At Bird's Isle -

02/09/13

02:31 PM
Caye Caulker, San Pedro and Placencia do their Lobster Fest in June, but Belize City has its one in February when Lobster season is about to close. And so, for the last of your Lobster cravings, on Sunday Birds Isle is where you need to be. On Sunday at the third lobster fest, you can choose from over 13 lobster dishes. We spoke with one of the organizers who told us that on Sunday there will be a lot of sun, fun, and fine food.
Joe Lawrence, Organizer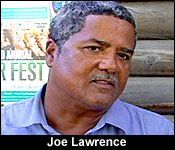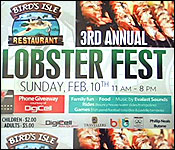 "Sunday from 11am in the morning until 8pm in the evening. There will be games for the children like tarpaulin; bounce house and water slides; there will be tombola, fish pond, it's really going to be a family affair."
Monica Bodden
"In terms of lobster; what will there be serving?"
Joe Lawrence, Organizer
"All the emphasis will be on lobster. This will be lobster heaven except for the lobster, but lobster will be serve in 14 different styles, to name a few there will be garlic lobster, lobster salad, curry lobster, lobster burger, fish cabab - if you are a lobster lover, don't miss Bird's Isle on Sunday."
Tickets are five dollars for adults, two for children.