Posted By:

Marty
For Whom The Bridge Tolls -

03/09/13

02:05 PM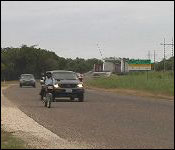 The City Council has been all over the news this week - as they mark their first year in office. Most of it has been fluff, but the most substantial part came when the council outlined its strategic plan going forward.
A major part of that is the plan for the northern highway between Belize City and the Haulover Bridge. As we told you earlier this week, it's going to be tolled, but we didn't know it would starts to soon. Councilor Dion Leslie told us more today:


Dion Leslie - Deputy Mayor, Belize City Council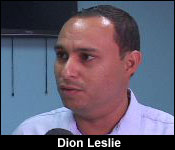 "This isn't something that were trying to get at you; it's just that you're going to contribute to the city that you use. So first of all, you'll contribute to the cementing, and concreting of the Northern Highway from the flag monument to Haulover Bridge, and other things as we look at other infrastructure projects throughout. The way it will work is we're looking to get an investor; it will cost somewhere between 10 to 12 million dollars to do the entire project. We will hire separate contractors so that work is done at the same time on the entire highway. You won't have one contractor doing it piece by piece from phases, but what we want to highlight is that at no time will the existing highway be closed. The 2 things that really stick out on the way forward over the next 2 years was of course the concreting of the Northern Highway from the flag monument to the Haulover Bridge and placement of the toll. We're going off Coney Drive, so those are 2 of the major projects that we look to kick off this second year in office with those 2 projects. We're looking at it; we've been in discussion for over the past months with various contractors, various possible investors so those are 2 of the main projects that we look at."
We also spoke to Leslie about the new policy at the Belize City Council to withhold services for renewal of various licenses if a property tax payer has outstanding arrears. According to Leslie, it has allowed them to collect $2 million dollars out of almost $10 million dollars that is owed to the council.
He said that the Council continues to utilize it, because if they had collected those outstanding rolls, they would not have had to float a bond:
Dion Leslie
"We've seen an increase of over 2 million dollars in outstanding property tax rolls, When you look at the arrears, I think we have close over 10 million dollars. The mayor mentioned at the press conference yesterday that if we were able to collect that 10 million dollars there's a good possibility maybe we wouldn't need to float that bond. So, we do have things in place, and we've seen that people are willing coming in to pay now; we have put some things in place is that we encourage people to come pay. You do have the drivers licenses thing, which has been under some criticism but it's working and the Mayor mentioned for that is that his defense is that it is working. We have close to over 2 million dollars that has been collected in property tax areas that didn't happen before that would have not come in if certain policies weren't put place."
Also included in the strategic plan is a controversial idea - for the council to give security of tenure to its employees. They are consulting with experts on how to get its' staff unionized.
Leslie says that it's in it's preliminary stages:
Dion Leslie
"Well the Mayor is looking for legislation, and we're encouraging the City Council employees to unionize, something that the Mayor is very passionate about. We've discuss it with our human resources, and we're finding our way forward and will soon be in discussion with the unions to see how we can best unionize to protect the workers of City Council."
Daniel Ortiz
"At this point, what is the stage; is it just consulting?"
Dion Leslie
"It's still at the consulting stage; a lot needs to happen before this is put into place."