Posted By:

Marty
Town Clock Re-Loaded -

04/16/13

11:09 AM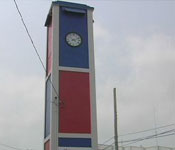 The Dr. Frederick Gahney Town Clock on Barrack Road has been there for decades Ė almost a century, actually. But it had earned the reputation for being one of those clocks that are only right twice a day; you know the kind, a busted clock. WELL, now itís been renovated and itís always right because RF and G insurance has sponsored a brand new clock.

The mayor told us more at the launching today:
Mayor Darrell Bradley
"One of the things that RF&G felt that they wanted to give another gift to the residents of Belize City. This is a clock that has always been maintained by RF&G Insurance and they've give it a total face lift in terms of purchasing a brand new clock and giving it a new paint job. They will be continuing to do the maintenance for the clock of the tune of $20,000. It is very important as I said in the presentation, Belizeans always have a problem with time and this is another reminder, a gift from RF&G insurance that time is important and that we should always be on time."