Posted By:

Marty
Mayor Darrell Bradley Didn't Resubmit His Name -

04/01/14

10:43 AM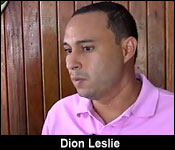 Friday was the deadline for UDP mayoral aspirants to put in their names - and the news tonight is that mayor Darrell Bradley has not put in his name - meaning he won't run for mayor, unless, of course, he changes his mind again - which he has been known to do. That happened in February when the mayor told the media at a prime ministerial press conference that he would run - and by the time the press conference was over, he told us he had mis-spoken.
But not meeting the deadline is bigger than mis-speaking at a press conference, and it will be interesting to see if mayor Bradley changes up again. In the meantime we are told three other UDP councilors and past councilors have put in their names: Deputy Mayor BQ Pitts, Former Deputy Dion Leslie, and former Councilor Leila Peyrefitte.
We tried to contact the mayor by text message, but got no reply.