Posted By:

Marty
Fire Rips Through Corozal Free Zone -

06/02/09

05:40 AM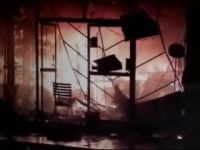 There was a major fire in the Corozal Free Zone last night. It could have been disastrous because six stores were destroyed in the blaze that raged for four hours – all within range of the Zone's gas depot. But that disaster was averted as fire fighters from both Chetumal and Belize battled the inferno. Keith Swift has the story.
Keith Swift Reporting,
This is amateur video taken of last night's blaze that engulfed the Macao Plaza in the Free Zone. Between 6 pm and 6:30 last night - the fire broke out in the Forever 21 by Nina Boutique and quickly spread to 5 adjoining stores. Businessman Sunil Khantani shot the footage and he was there before fire fighters arrived.
Sunil Khantani, Businessman
"I saw over there some flames coming from the plaza and they tried to contact the security guard and the security people came and they called the fire fighters also. We got a good help from the Mexican side also. They sent water tanks and well the flames started and was increasing increasing and due to what they had inside, the plastic things and all, it was increasing more and more."
Keith Swift,
And you were there before the fire engine arrived.
Sunil Khantani,
"Yes I was there before the fire engine."
Keith Swift,
And it was only one store at that moment?
Sunil Khantani,
"It was only in the one store at that moment. The store Forever 21, it started from there."
David Ackerman, Chairman – Corozal Free Zone
"It started at Forever, that is to the extreme rear of the plaza, Forever Store. But the other companies that were affected, and this is coming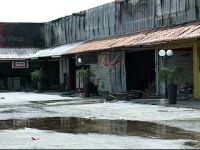 from our security who were first on the scene, they came in with fire extinguishers etc. but the fire was already ignited to that point."
Wayne Armstrong, Corozal Fire Chief
"The plaza was fully engulfed, the area that we see. That was four or five of them, fully engulfed upstairs. So my people had to work lo break open the shutters and get inside. We had people to the back due to the gas station taking care of that and then you had other stores to the other side of the building that was properly heated up. We got a line in and people were there securing that area. After when we managed to get one of the shutters we noticed that the fire was fully to the back and my people just took care of that.
We knew that a gas station was to the back and so these people made sure that they had a hose line to the back. The Mexicans they came in and they went to the back while we had a crew of people challenging the front. This fire fighting didn't give us much problem because we had a constant flow of water, we didn't run out of water and we have some trained people that went inside as close as they could to get this fire out."
Fire fighters from Belize and Chetumal brought the fire under control within four hours but by then the damage had been done. Six stores were affected with their inventory, mainly clothes and footwear destroyed.
David Ackerman,
"Yes we have six businesses that have been affected by this fire,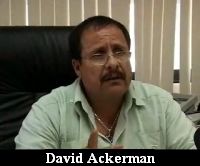 apartment stores actually because mostly they are one shutter businesses with a warehouse on the top and most of them, like I said, carry textiles – it is clothing and footwear but in the plaza we have things like restaurants and other businesses and like I said to the back there was the gas station and adjacent to that was some warehouses for some Koreans who had just received containers and those were ram-packed and all of that has been saved without any damage to the product so I am very pleased the way it was handled last night."
Corozal's fire chief Wayne Amstrong says it is too early to determine a cause and the Free Zone's Chairman David Ackerman says it is too early to tally the costs.
Wayne Armstrong,
"The investigation will continue and at this moment I have one of my fire trucks out there along with some of the security officers who are trained just to clear certain areas, to mop up the rest of the area."
David Ackerman,
"At this point I wouldn't even want to make a guess. It is a private matter in the sense that they are private businesses. I believe within the next 48 hours I could something for the media to know. Like I said, I am not an engineer or an architect to say and I know the insurance companies are coming in and they will have to make some financial assessment as to that part."
Ackerman says the zone will be enforcing its fire act.
David Ackerman,
"We are going to start within a couple weeks, we are going to start what we call a building inspection. We have to realize that a lot of the buildings in the zone have been built over 12 years. We will start enforcing what we call the Fire Act where by the fire service along with a certified electrical engineer will come and make visitations to these buildings and where wiring is being found not adequate, these companies will be requested to rewire. We want to make sure that we leave no stones so we could avoid any catastrophe in the future."
Again there has been no official damage estimate but an unofficial figure of a million U.S. dollars and we know for sure that at least 24 workers will be out of a job for the next six months.
Channel 7 News