Posted By:

Marty
Missionary Accused Of Preying On Teenaged Boys -

10/14/11

01:29 PM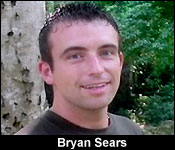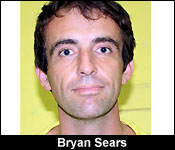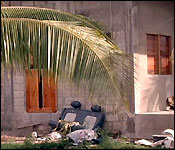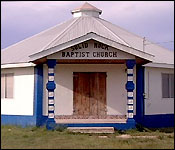 Tonight the quaint seaside community of Sarteneja in the Corozal District is reeling after it was revealed that a Christian Missionary who was trusted and accepted in the community, forcibly sodomised three teenaged boys from the village.
It came to light on Saturday - and a doctor has since confirmed that they were sodomised. The man accused of the crime is Brian Sears - a missionary who had been in the community for three years - and that's what makes the already hideous offence even more disturbing, that he used the cover of Christianity to gain the community's confidence and prey on three brothers.
I went to Sarteneja yesterday to find out more:...
Monica Bodden reporting
This is the home of 35 year old American National Bryan Sears - the man accused of SODOMIZING 3 boys.
On the side door of his house - facing the street -is a tall black cross proudly proclaiming his devotion.
Sears who was a youth pastor for the Baptist church in Sarteneja - was also a volunteer councilor and scripture teacher for the past 3 years at the village high school.
So having a cross on his door seemed nothing out of the ordinary - for the devout image he portrayed to villagers… But that portrayal was pure betrayal for those who trusted him. One mother told us her 3 sons - ages 13, 14 and 16 are accusing Sears of sodomizing them.
She first met Sears through the Baptist church in the village - where he was a youth pastor and seemed to have had a passion for the betterment of the village's young boys - One day Sears asked for her permission to allow her 14 year old son to move in with him -so that he can provide the child with better living conditions and an education.
Mother of Victim
"We became friends at that church."
Monica Bodden
"So he promise to help out with your son?"
Mother of Victim
"He told me to give the child to him because he felt alone and he was going to buy him stuff and he was going to help him with his studies."
The 14 year old minor was living with Sears for over a year but no one knew what was going on - until last Wednesday that is - A family friend says the teenager was intoxicated when he went to visit her that evening.
He was crying and angry at the preacher man.
Diori Cruz - Friend of Family
"This guy arrive on Wednesday at about 4 o' clock in the evening. He seems to be drunk like he was taking some type of drug. When he came he was crying and screaming, I was really alarmed by his behavior. He call me by my name he said 'Ms. Diori come here I need to talk to you.' I ask him to come here, I ask him 'what's happening to you?' He said to me "Ms. Diori, what Mr. Brian has done to me I will never forgive him and I will kill Mr. Brian tonight." I ask him why are you so upset. Mr. Brian has done to you? and he said "you don't know what Mr. Brian has done to me." I kept on asking him and he kept on saying 'no, I can't forgive him. I will kill him for what he has done to me.' He was dirty, his hair was out and he kept on saying that what Mr. Brian had done to him - he will not forgive him. I told him to relax and I ask my daughter to bring him so we could try to control him."
"I told my daughter when she manage to control him, let him take a shower, probably he will get more tranquilize by doing this. We manage to tranquilize him. He went to sleep and about 6-7 o'clock in the night his mother came."
The minor's mother spoke with him the following day - where the child told her what was going on.
Mother of victim
"After he return home I ask him the next day when did he got drunk? He answered that he got drunk because of Brian fault. So I ask again why, was it because of Bryan's fault. He said it's because Bryan told him to take off his clothes. He said he told Bryan that he would not take off his clothes; he said Bryan told him to take off his clothes because he wants to make love to him. My son said no and Bryan began to choke him."
Monica Bodden
"You son explain to you if this was the first time such an incident happen or has this been occurring?"
Mother of victim
"When I ask him if this has been happening before why then until now you are saying something? Why had you kept quite all a long? He told me that Bryan would threaten him if he says anything."
Right away, she reported the incident to a JP of the village, who later took the complaint to the Corozal police station. The police requested that the minor be examined by a doctor - and she took not only her 14 year old son - but also her 13 and 16 year old sons who also visited Sears on occasion. All three had been carnally known.
Mother of victim
"They had examined all of them and they found that the three of them had been carnally known. They have told the police everything."
Police have arrested and charged Bryan Sears for three counts of an unnatural crime. Sears was remanded to the Hattieville prison until the 17th of October when he is scheduled to reappear in court. Reporting for 7news.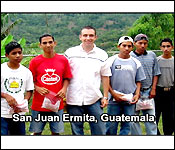 According to what we've been able to dig up on the internet, Sears has worked as a missionary in Guatemala and Belize - you see him here in this picture from Guatemala, notably again with a group of young boys.
On his FACEBOOK page, it says that his calling to quote, "full time ministry in missions" started in Punta Gorda in 2001 with Dr. Fred Martin. He went to Guatemala in 2005 where he worked in San Juan Ermita and says, quote "Three years later God returned me to Sarteneja, Corozal, Belize." It says, the Kentucky Native recently teamed up with another missionary from Nicaragua who has become his, quote "spiritual covering in Belize."