Posted By: joey-jo
Miss Bz Univ & Miss Bz Int'l 07/08 -

09/15/07

08:20 AM
Since we're talking pageants I figured I'd comment on the others. I still can't find any official pics of the delegates that are currently vying for the titles of Miss Belize Universe 2008 and Miss Belize International 2007 at Saturday's Miss Belize Pageant but I came across this:
Courtesy: 7 News Belize City
Quote
Laurian Samuels Wins Miss Belize Universe Swimsuit Show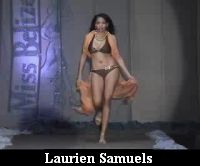 A new Miss Belize Universe and Miss Belize International will be chosen on Saturday night. The field has dwindled from 11 to 9 competitors and the race is on. The swimsuit and high fashion show was held on Saturday night and SJC student Laurian Samuels won. But that doesnít mean sheíll walk away with a crown this Saturday. She agreed.
Laurian Samuels,
ďIt was very exciting. I was very surprised. It came kind of naturally and I really enjoyed and I guess you could have seen it out on stage and I guess that whatís the judges and the public liked as well.Ē
Keith Swift,
How does it feel to have won?
Laurian Samuels,
ďIt definitely boosts more my confidence and it makes it even more exciting to see what more will come at finals.Ē
Keith Swift,.
Do you now feel that you have an edge over the other girls?
Laurian Samuels,
ďA personal advantage as in my confidence but the points donít add or go across so everyone starts at the same place so I donít think that comparing point wise I am above the other girls. We are all at the same place.Ē
The footage was filmed by Xtreme TV for Pageants Belize. And whoever wins on Saturday night will replace Maria Jeffery. As Miss Belize, Jeffery represented Belize in the Miss Universe Pageant but right here at home she did what only one other Belizean has ever done before and that was win the Miss Costa Maya crown. She today reflected on her reign.
Maria Jeffery, Miss Belize Universe 2006
ďItís been an excellent year. Iíve done a lot of travailing. Iíve been meeting some wonderful people, getting some really good connections. Hopefully I will be continuing to do that. Iíve also participated in the Costa Maya Pageant, which I must say that I won so Iím the Reina del a Costa Maya 2007, very proud to say I am not giving up my crown completely. But Iíve had a wonderful year, I canít complain.Ē
Leilah Pandy was the first Belizean to win Miss Costa Maya. The Miss Belize International will represent Belize in the Miss International Pageant.
A new Miss Belize World and Miss Belize Earth will be chosen in March
. The current Miss Belize World Felicita Arzu will participate in the Miss World Pageant scheduled for November in China.
NOTE:
Miss International 2007
Beijing, China
October 28, 2007
Miss Belize International 2007: To be selected September 15, 2007
Miss Earth 2007
Manila, Philippines
November 11, 2007
Miss Belize Earth 2007: Leilah Pandy (Belize City)
Miss World 2007
Sanya, China
December 1, 2007
Miss Belize World 2007: Felicita Arzu (Orange Walk Town)
Miss Universe 2008
Nha Trang, Vietnam
May, 2008
Miss Belize Universe 2008: To be selected September 15, 2007
Miss Teen World 2008
Texas, USA
August, 2008
Miss Teen Belize World 2008: Expected to be selected March 2008
Mister World 2008
Location Unknown
Date Unknown
Note: Mr Handsome Belize 2008 to be selected March 2008. Representing Belize in Mr World 2008???