Posted By:

Marty
Dr. Arlie Petters Grooms Generation Next -

07/26/09

06:32 PM
Dr. Arlie Petters – he is a Duke University professor and world class physicist with Belizean roots. And doing his part to give back to the community, he established the Petters Research Institute in his hometown of Dangriga. This year he flew in 11 academically gifted high school students from the United States and England and chose 4 Belizean students to participate in a business leadership course - a partnership between the Petters Institute and Duke University's Talent Identification Program. The training ends tomorrow but today was a graduation of sorts and 7News was in Dangriga for it. Keith Swift has the story.
Keith Swift Reporting,
The fifteen high school students are from England, the United States and Belize. They are racially and ethnically diverse, and they are different ages – the youngest 15 and the oldest 18 with one common denominator: a drive to lead.
Chanelle Garcia, California, age 17
"I hope to one day become a leader or someone who influences people."
The students who are considered the best and brightest spent two weeks learning in interactive sessions with one of the world's best, Dr. Arlie Petters at his research institute in Dangriga.
Dr. Arlie Petters, Exec. Dir. - Petters Research Inst.
"They are selected on the following criteria: you need very high grades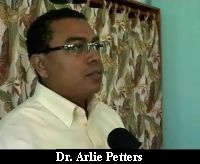 and then we look for things like motivation, we look for emotional maturity; that includes being able to handle stress. The last two weeks to me was a period of training in both the theory and the practicalities of being a leader and for us a leader is a catalyst for change. These young people in the program, I see future Prime Ministers, future CEOs."
And to test these future CEOs, the students were divided into three groups of five and given projects.
Chanelle Garcia,
"My group was personally focused on oil and energy and right now we know that Belize is currently in debt and we're trying to figure out the best way to provide energy for you guys and we took into consideration other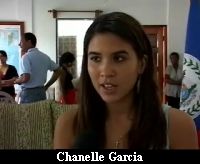 alternative energy sources but it is kind of expensive so we focused more on oil."
Michael Coombs, London, age 17
"Obviously this is a growing concern in Belize about how much oil there is, how the profits can be used to benefit the whole of Belize's society and it was really interesting to take such a controversial topic and such a deep topic and only just skimmed the surface and try to understand the methods of avoiding the curse of oil in this country."
Benjamin Picolo, Florida, age 17
"My group dealt with marketing and technology. We actually dealt with the problem of the lack of reasonably priced computer equipment and computer repair services in Belize. We tried to tackle that so if computer components were being manufactured or if computers were manufactured in Belize we could really cut costs for consumers and developed that possibly give some to charity also."
Mischa-Von-Derek Aikman, Belize, age 15
"My group is dealing with marketing technology. We're actually branching off an idea from Dr. Petters that he actually plans to implement next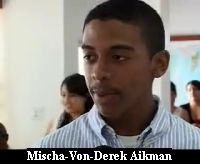 year. We are planning to import computer components from the US and then assemble them in Belize which will allow us to sell these computers at extremely cheap prices for the Belizean people and also at the same time it will allow us to donate approximately 20% of our computers to the community and that is extremely important being that 33% of Belizeans are below the poverty line."
Dr. Arlie Petters,
"I would love for them to apply a lot of the leadership principles in their day to day life when they get back to their respective high schools. Many of them are Presidents of student organizations so I can imagine them passing on this knowledge to other students."
These students say that in just two weeks they've learnt a lot.
Xux Ek Novelo, Belize, age 15
"To be an effective team member you have to focus and you have to give your remarks and you have to give good feedback."
Michael Coombs,
"The DTIP program really focuses on not just learning a structured syllabus but also a real sort of emotional understanding which was a really great experience to have."
Mischa-Von-Derek Aikman,
"Yeah I think especially in Belize we are in need of real leadership and we learnt one thing that if leadership at the top is distorted and not organized and structured then you can't expect any more of those coming up and learning from those leaders. So I think it is extremely important for those like peers and I in this age group for us to start from now to build the foundation."
And so what will be the future of these future leaders? We asked.
Keith Swift,
"So where will you see you in ten years?"
Benjamin Picolo,
"That is a question I still don't know. I'd like to go to college first but anything is game, the sky's the limit."
Chanelle Garcia,
"In ten years hopefully I'll be someone, a good leader of some organization whether it be non-profit, political, or anything that can help people around the world and make a difference."
Xux Ek Novelo,
"Well either a lawyer, a doctor or a entrepreneur."
Keith Swift,
"So we will see you at Price Waterhouse?"
Darran Pagan, Washington DC, age 17
"Well I hope so, I'll be a partner in that firm."
Greg Launter, Kentucky, age 17
"I have no idea, hopefully something in the business world but as of now I am undecided."
Ahjaii Shetty, Florida, 16
"I am undecided but hopefully again maybe something in the business world, maybe an entrepreneur."
Dr. Arlie Petters,
"Look at these young people, they represent to me the future of Belize. Their capabilities not only sit with in our country but to me they perform extremely well on this international scale. I am proud of them, there are future Prime Ministers here, there are future CEOs of businesses here."
And for Dr. Petters, that future looks bright.
Present at this morning's ceremony was Foreign Affairs Minister and Attorney General Wilfred Elrington along with officials from the BDF and Ministry of Transport and NEMO. Adrian the Doc Martinez also performed.
[i]Channel 7 News[/i]