Posted By:

Marty
Pink Teddy Bear Worth Thousands -

09/29/10

02:30 PM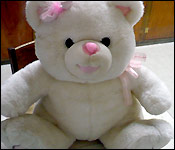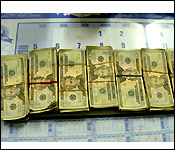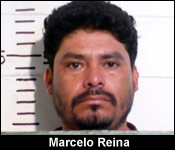 This pink teddy bear may look adorable - but more than just cute, the stuffed animal was rich! That's right police found 14 thousand US dollars stuffed inside little Teddy when they searched him 8 days ago.
The discovery was made at 5:30 on Monday September 20th on Curl Thompson Street in Port Loyola. It was a major joint operation by the Crimes Intelligence Unit, the Financial Intelligence Unit, the Gang Unit and Special Branch. They searched the home of Marcelo Reina of # 8713 Curl Thompson Street, which is in the Port Loyola Area of Belize City. Police found seven bundles of 20.00 dollar U.S bills - each stacked 100 thick!
The money was seized and Reina was taken to the Queen Street Police Station where an assessor from the income tax department was called in. They taxed 50% - or $14,000.00 Belize dollars of the proceeds right off the top - and the other $7,000.00 US was labeled as exhibit and Reina was charged for Money Laundering.
That was just one of the busts made during September when the police had all cylinders firing on operation Jaguar and Operation Shutdown. 9 weapons were confiscated along with 88 rounds of 9-millimeter ammunition and seven 12-gauge cartridges. The weapons include four 9 millimeter pistols, two shotguns - one of them home-made, 1 UZI submachine gun, 1 .38 revolver and one 380 pistol. In total 14 persons were arrested for possession of unlicensed firearm and ammunition.
Channel 7