Posted By:

Marty
New Coast Guard Headquarters -

12/04/10

03:05 PM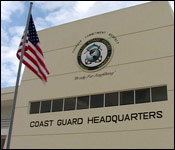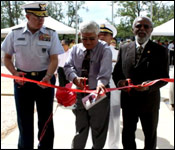 Only five years after it was established, the Belize National Coast Guard was boasting at official opening ceremonies this morning its spanking new headquarters located at Mile 4 on the Western Highway. The multi-purpose building was built by the U.S. Army Corps of Engineers. Lt. Commander Bennett of the Belize Coast Guard says the new location of the headquarters is significant and appropriate.
Lt. Commander Bennett, Belize Coast Guard
"We've relocated from Williamson complex in Ladyville, currently now at Mile 4 and a half on the Western Highway on the seashore where we belong as a Coast Guard. We are currently working on our jetty for us to accommodate patrol boats at our compound. It's a real important date for us in relocating the coast guard to the seashore where it belongs."
"When is the jetty expected to be completed? The jetty is expected to be completed next year April and should be able to house two 85 feet patrol boats."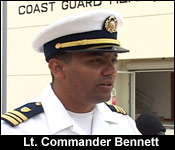 "The building itself is multi-purpose. It has the Coast Guard headquarters proper. It also includes accommodations, equipment stores, and kitchen and galley facilities along with other logistics requirement for the Coast Guard headquarters".
Special guest speaker at this morning's opening ceremonies was Rear Admiral Steven Ratti of the United States Southern Command.

Channel 7