Posted By:

Marty
Social Cohesion or Racist Overtones? Essay contest -

02/08/11

03:38 PM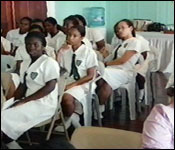 "To what extent has Belize become socially and culturally cohesive since independence in 1981?"
That's a heavy question, but it's what high school students were asked to answer in an essay competition sponsored by the Institute Of Social And Cultural Research - which is an arm of NICH.
The top three finishers were Gian Aguilar from Sacred Heart College, who placed third, Amenzee Amu from Plaotti who was second, and Andre Alamina from St. John's college who was first.
Here's a small part of his presentation followed by the fiery riposte from Dr. John Morris of the Institute Of Archaeology.
Andre Alamina, SJC High
"It is great that having reached this far in our Independent history, we as a nation are still growing in establishing our identity and the struggling to commit to this. This is tested in our ability at times to show the type of respect and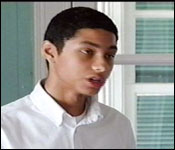 decorum to our national symbols and particularly our anthem and our flag which are not that which we as proud Belizeans should display. Notwithstanding our immaturity at times, we must acknowledge that our people have made significant strides in this respect and as pride and love for our country becomes more embedded in our culture we are well on our way to uplifting our self and taking our place among the prominent issues of the world."
Dr. John Morris
"This is the result of 300 years of colonialism and imperialism that thought us to not believe who we are; that thought us that we were insignificant, that divided us, that spoke about the Maya, that spoke about the Creole, that spoke about the Garifuna, that spoke about the Mestizo and said that you were all different but you should try and be as British as we are and then you are going to get better. One of the students spoke about Belize as melting pot; Belize is not a melting pot. A melting pot implies that we are all alike because all the agreements come together and forms one stew, but we are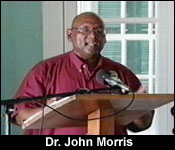 not alike and let's face it, we are not alike. But the spirit of nationalism and the spirit of cohesiveness is that we will come together and we will like each other and we should like each other because how can you curse grandmother about being a 'panya' or your grandfather of being a 'coolie' when they are your own people, you cannot. But we were thought to do so, the term race is then divisive, it is used; we use it every day to determine who belongs to our group or who does not belong to our group. Believe you me, when you gather around in your school yards you can just look and you will see that we still conform to our racial stereotypes. When you apply for a job, there is still an element of racism there. The term race itself again is a morphs but the term racism is a term that is with us every single day."