Posted By:

Marty
Glenn Tillett Gets Off -

03/16/12

02:12 PM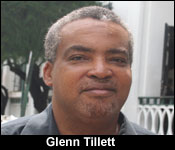 Since August 2, 2011, Glenn Tillett, editor of the Independent Newspaper, and his 21 year-old daughter have been in and out of the courtroom in relation to the charge of handling stolen goods. Today, Senior Magistrate Sharon Frazer dismissed that charge for want of prosecution.
Police reported that they searched his Belize City home, and found a pair of computers which was stolen in last year's burglary of the Salvadoran Embassy located in the Cohune Walk area of Belmopan.
Tillett told police and the media that his nephew, 20 year-old Tyrell Hyde, took the items to his home and asked to store them there. He also said that they didn't know that these items were stolen. Police didn't believe him, and they arrested his daughter and him.
Since September of last year, the matter has been granted 5 adjournments in Senior Magistrate Frazer's courtroom.
The first 3 were procedural, and at the 4th adjournment, police asked for more time because one of their witnesses, a functionary at the Salvadoran Embassy, was on vacation.
In the 5th, adjournment today, the prosecution asked yet again for more time because this same witness, who had been on vacation, did not appear in court.
Senior Magistrate Frazer pointed out that so far, they've not produced any evidence against Tillett or his daughter, and so, instead of granting that additional adjournment, she discharged them.
Tillett told us that this charge should never have been brought against them because there was no evidence for it. He intends to pursue what he calls the violation of his rights to the fullest extent.