Posted By:

Marty
Guatemalan Gold Rush In Chiquibul -

07/24/12

12:55 PM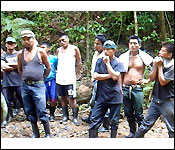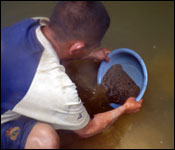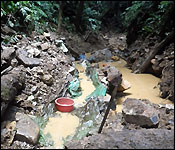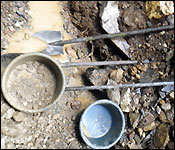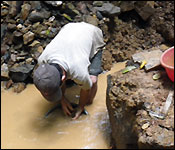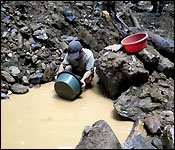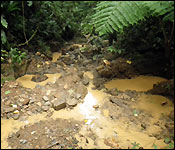 The pressures upon Belize's borders continue to multiply: last week it was an illegal Guatemalan logger who was killed after he engaged a BDF Patrol and this week, and tonight the news is about scores of Guatemalans illegally panning for gold in the Chiquibul.
They were caught in extreme southern Chiquibul. That's the same area where the Ceibo Chico Conservation Post and the South Chiquibul Joint Enforcement Unit was inaugurated a few weeks ago - and tonight there is proof of why that post is so desperately needed.
19 days ago the joint patrol came upon a major, organized Guatemalan gold-panning operation - but due to the remote-ness of the location, only now are the pictures and video becoming available.
It shows a group of 20 men, women and children set up well within Belizean territory panning for gold from the Ceibo Chico drainage system.
Yes, there's gold in those hills and a Belizean operation, Boiton Minerals, has been working to extract it, but now scores of Guatemalans have been illegally crossing the border for their own gold rush. The group of 20 is believed to be only one of about 15 such ragtag outfits working along the Ceibo Chico.
It is distressing because they are violating a protected area, pillaging Belizean resources and contaminating the headwaters of the Chiquibul river. A release from the Friends for Conservation and Development says, quote, "the damage is incredible. The recovery of this ecosystem will take hundreds of years since the stones have been removed, trees fallen and the streams have been altered from its original course." End quote.
This afternoon in San Ignacio 7news spoke to the Executive Director of the FCD Rafael Manzanero - who told us he is appalled at the situation:...
Rafael Manzanero, Executive Director - FCD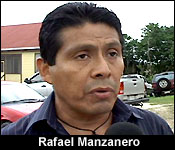 "We about 7-7.5 kilometers inside of Belize in the area known as Ceibo Chico drainage area - the enforcement unit because they are fresh in the area - they were able to inform the people in that location about their illegal activity - all of these people are from Guatemala. They were inform about their location inside the park and we are yet in planning phase of how to deal with this particular problem and being that it's a large amount of people, it will take a lot of resources and efforts to be able to do an effective enforcement down south in the Chiquibul."
"We did not have all the resources together; the man power, the transportation and all of that in terms of bringing out all that amount of people located in the area. I am certainly concern about the situation because of the number of people. Our reports that we have is that there are approximately 300 Guatemalans operating in that area in a range of that are about 3 kilometers of rivers and streams."
"We have been inform that there have been particular groups operating in the area but certainly we were surprised at the level of the systematic manner that they are operating in the area. We even come across some of the women and young girls. As you may reckoned it is not going to be an easy operation extracting everybody from there. As a result we are now planning on how really to address this particular situation and one of our recommendations therefore is to put a big force in terms of a strong deterrence which at the end of the day means a lot of man power, a lot of law enforcement agencies or personnel involve in this particular matter."
"They have found gold and yes they have been taking it out and from what we reckoned these have already been sold on a weekly basis. It certainly is an appalling situation to us, more particularly because this is also occurring within our country limits. We have seen over the years an escalation of Xateros extracting Xate. Then we have seen the illegal loggers and so gold being a lucrative product, more than likely we can only suspect that this can increase over the next few days if we don't deal with this issue urgently."
Ceibo Chico is in a rugged, highly inaccessible terrain. The gold panners work day and night using household utensils to do their panning.
It is the latest border flashpoint in a series of them: first it was Xate, now logging, and now it's gold. Indeed, the Chiqubul Forest National Park as well as the Colombia forest Reserve are seen as Oases for Guatemalans living along their border whose lands have been stripped for agricultural uses; on their side it's all brown; they look over to Belize, and it's all green.
Now, the Friends for Conservation and Development say that Government must make a formal report to the Guatemalan government about this major problem, bring together all pertinent regulatory agencies to synchronize law enforcement efforts, and immediately put a credible deterrence force on the ground to contain the escalation.
There has been no formal response from government yet. But observers on this side of the border might agree they would not be wise to include the Organization of American States.
As we reported, on Friday that organization issued a statement which has stirred controversy in Belize. The statement was in regards to the shooting death of Guatemalan Luis Alberto Ramirez - who was logging illegally in the Colombia Forest Reserve and was killed when he and his two associates engaged a BDF Patrol.
It happened 3.2 Kilometers within Belizean territory, yet at 2:00 pm on Friday the OAS sent a statement saying that it had happened "on the border" and "was reprehensible". Then at twenty minutes past three, they sent another statement taking back the erroneous declaration that it had happened "on the border" and substituted in its place another inaccuracy, that it had happened "in the adjacency zone." Wrong again: even the Prensa Libre - which is considered a Guatemalan nationalist newspaper declares that it happened well within Belizean territory.
Ambassador to Guatemala Fred Martinez told us on Friday that they would object to the language - but no correction has been forthcoming.
And so what happens now? Well, from the sound of things, nothing; Belizean authorities appear content to let this one slide. Foreign minister Wilfred Elrington told us today that the shooting did happen quote, "somewhere in the vicinity (of the adjacency zone" end quote, and added that it is, quote, "very difficult to tell the OAS that they need to be precise in a matter so delicate as that," and finished by saying that he is sure the Secretary General, quote "does not mean any harm by use of his language," end quote. Well, offence may not have been meant, but it has been taken. COLA - the Citizens Organized for Liberation Through Action today issued a heated statement saying quote, "We at COLA consider it even more reprehensible that an international organization as well-established as the OAS, which purports to be the chief mediating organ between Belize and Guatemala, can get so completely wrong the difference between the established border between these nations and their artificially established "adjacency zone." The statement adds that quote, "COLA renews the demand for that organization to not only retract this statement, but also to make absolutely clear that it was wrong and issue a clear and unambiguous clarification.
Failure to do this will be seen as evidence of obvious partiality to the Guatemalans." End quote.
As background, we note that Minister Elrington did tell us that when things like the shooting death happen - The Guatemalans put a lot of heat on the OAS mission.