Posted By:

Marty
Sparks Fly In House Of Representatives -

08/24/12

01:02 PM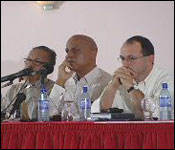 The House Of Representatives held another of those special sittings today. This one was to pass four bills that are a part of the Government's commitment to the IDB in exchange for a policy based loan which would guarantee a portion of Superbond 2.0. That was a kind of legislative housekeeping - but sparks flew when the Oppositions members were allowed to ask questions that they've been trying to put in for the last two House Meetings.
One particularly contentious one came, predictably, from the PUP Member for Cayo South - who wanted to know all about the money being paid to Economic Ambassador Mark Espat.
Here's how that back and forth with the Prime Minister went:..
Hon. Julius Espat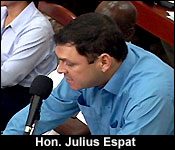 "Can the Honorable Prime Minister inform this honorable House and the nation of the exact terms and conditions under which Mark Espat has been appointed both as an ambassador and as leader of the debt negotiation team and specifically state the dollar value of each such contract and or appointment?"
Hon. Dean Barrow, Prime Minister
"I can say categorically that Ambassador Mark Espat has been appointed as an ambassador for economic affairs without any kind of remuneration - he gets no salary at all, no pay for that. With respect to the debt negotiation team; this is where the member gets into trouble. If he had the width and sense and if he had perhaps studied his standing orders he might have frame his questions differently because you see as he has put it down the short answer is that Mark Espat also gets absolutely no money, no pay, no remuneration for his work with the debt renegotiation team. There is a company called Hallmark Advisory Limited and it is with that entity that the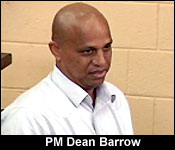 government has entered into a contract. As I have said, if you had the width and sense you might have frame your question in such a way that I could have given you the answer. But since you ask specifically whether Mark Espat is being paid the short answer is no. Now you can come back next time and ask me about the professional rates of fees that a part of the contract with Hallmark Advisory and I will be more than happy to give the answer to you, but you know how ears hard pickny have to go to school two times - wheel and come again."
And he did "come again"! Espat tried to bring up the same subject on the adjournment. Now, an elected representative can speak on any matter of public interest on the adjournment - but not one that has already been the subject of an oral question.
Still, Espat - who regularly shows little regard for the House Standing Orders - pressed on, leading to another showdown with the Prime Minister.
Here's that fiery exchange:..
Hon. Julius Espat
"Mr. Speaker it is a matter of national concern that the Belizean people know what are the fees being paid to the lead negotiator, 1.) because we need to know what are the expenses."
Michael Peyrefitte, Speaker of the House
"Member for Cayo South the rule was just read to and the rule is correct. You ask a question, you got an answer. You cannot raise a point of public concern and debate on an issue of a question that has been asked. Member for Cayo South you cannot proceed to debate on a matter for which you have ask a question."
Hon. Julius Espat
"I am not asking a question Mr. Speaker and I am not debating a fact Mr. Speaker. I am just stating a fact. The information that we have is that Mark Espat through his company Hallmark and in my case Prime Minister the "H" is silent. Hallmark gets $20,000 a month plus all expenses up to this point added up to about $800,000 plus at the end of the day the total will be approximately $1.7 million. Can the Prime Minister state if that is not the fact."
Michael Peyrefitte, Speaker of the House
"I guess he is asking a question. I guess it is now clear member form Fort George that he is asking a question."
Hon. Dean Barrow, Prime Minister
"Mr. Speaker, you see why I had to treat him in the way I did earlier. There is absolutely something wrong with the member for Cayo South."
Michael Peyrefitte, Speaker of the House
"Yes member for Cayo South, you have a point of order?"
Hon. Julius Espat
"My point of order Mr. Speaker, what is wrong is that the Prime Minister continues to lie."
Michael Peyrefitte, Speaker of the House
"What's your point of order."
Hon. Dean Barrow, Prime Minister
"I had absolutely no intention of not disclosing to the Belizean public the rates of remuneration for Hallmark Advisory. In fact I was going to ensure that as soon as the House Meeting is finish that I would have on camera made the disclosure to Channel 7 and Channel 5 and to all."
"Now Mr. Speaker, indeed Hallmark Advisory, a company that registered at 16.5 miles is an outfit that is owed by Mark Espat. I said that nobody is trying to conceal anything member. I indicated to you that if you had only had the width and sense to know how to frame your question - you would have had the answer before I would have given it to the press, but since you have abused your opportunity - the privilege given to you to raise something on the adjournment let me make clear Mr. Speaker that Hallmark Advisory has a 7 month contract with the government of Belize, this is not open, it's for 7 months and Hallmark Advisory a company - you can find out how many persons Hallmark employs, that's a matter for you. Hallmark Advisory is being paid at the rate of $20,000 per month for the 7 months - that's a grand total of $140,000 for an enterprise. You talk about not wanting the Cabinet to know; Of course the Cabinet knows."
"For an enterprise for the magnitude of this debt restructuring exercise where we are talking about 1.1 billion dollars that we must restructure because of this country having been unconscionably saddled with it by those on the other side. The bottom line is that paying Hallmark Advisory $140,000 for this exercise is absolutely getting value for money and that is the way the UDP operates. It is not like the PUP who sold the member for Cayo South that Chief Justice's residence - a legacy."
Hon. Julius Espat
"On a point of order."
Michael Peyrefitte, Speaker of the House
"You have a point of order. What's your point of order?"
Hon. Julius Espat
"The Prime Minister should indicate to this nation who owns the house and what is his relationship to them."
Michael Peyrefitte, Speaker of the House
"Member for Cayo South. I think all of us now have been extremely patient; if you raise like that again and don't give a proper point of order I will ask you to leave the House."
Hon. Dean Barrow, Prime Minister
"Yes Mr. Speaker. The PUP sold him a legacy building; part of the heritage of this country - sold it to him for $100,000. What you must tell the people is how much you flip the house for and indeed I know because the husband of my wife sister bought that house from you. This is somebody who lives abroad - a Swedish individual and who and I am telling you Mr. Speaker when I got an idea of the price at which the member for Cayo South sold it - what he had receive for $100,000 I was absolutely flabbergasted, I was astounded, I was outraged and when I talk about fixing the member for Cayo South firmly in his place - the place in which I mean to fix him is not the place where he is sitting, it is the place he occupies as one of the most egregious violators of any kinds of standards code of ethics or of conduct in this country in terms of people in public life."
And at the end of the debate - Espat still had more for the Prime Minister - you can see him saying, this isn't finished.