Posted By:

Marty
PM Says Local Oil Refinery "Ain't Gonna Happen" -

11/22/12

02:30 PM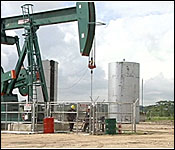 And so since the Government never got its IDB Loan, we got to thinking about things you hear about, but never see. That made us think of the oil refinery that the Prime Minister promise din the run-up to the election.
With fuel prices trending down - but still well above ten dollars per gallon - we asked the PM if its ever going to happen:..
Jules Vasquez
"You promise an oil refinery. Ain't gonna happen?"
Hon. Dean Barrow, Prime Minister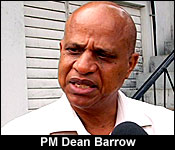 "No because we got feasibility study done paid for by ourselves and BNE. Our share came from something we made from back haul arrangement. Bottom-line though, that study shows that it's not feasible in current circumstances at all. I thing we would have to have a quantum increase in oil finds in this country so that the throughput could in terms of volume increase measurably before we could put that back on the table."
---
Study shows Belize oil refinery not feasible
The United Democratic Party's campaign manifesto going into General Elections earlier this year included the prospect of establishing a national oil refinery.  In fact, during a press conference unveiling the UDP's platform, P.M. Barrow said he was, "absolutely determined that there will be the construction of an oil refinery in this country.  We have to start processing our own local crude." Since being re-elected, however, the Barrow Administration has been rather silent on that promise.  Today the prime minister told the media that after conducting a preliminary study, setting up a refinery in Belize would not be practical.
Prime Minister Dean Barrow
"We had a study done.  We had a feasibility study done, paid for by ourselves and BNE.  Our share came from something we made off a backhaul arrangement we had allowed B.N.E. to have done.  Bottom line though that study shows that it's not feasible in current circumstance at all.  It's not going to, in terms of the throughput and the economies of scale, they aren't there so that it would not result in any appreciable lowering of the price to the consumer at all."
Jules Vasquez, 7 News
"But if more oil finds were to be made…"
Prime Minister Dean Barrow
"Then possibly you can look at that but all the calculations on net present value and so on were not favorable even when they made certain projections so I think we would have to have a ton load, a quantum increase in oil finds in this country so that the throughput in terms of volume increases measurably before we could put that back on the table."