Posted By:

Marty
Canadians Donate Wheelchairs -

02/28/13

02:09 PM
A group of Rotarians are visiting from Alberta, Canada and this morning there were at the KHMH making a generous donation. The team donated one hundred and ten wheelchairs to physically challenged Belizeans from across the country. The project is the culmination of 4 years of fundraising. Terry Stacey told us more:..
Terry Stacey - Rotary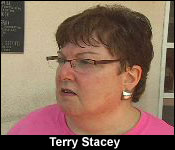 "Today's donation is about a project that's taking us 4 years to do the fund raising, $25,000 Canadian currency, to bring down 110 wheelchairs to Belize. The Rotary District that we belong to in Canada has had an education project down here in Belize for about 5 years. So, when our club started to think about where we wanted to do an international project, we thought Belize would be good because our district already had a relationship with Belize. So, we did some checking, and we got the idea that wheelchairs were needed. So, that's when we decided that we were going to start fund raising for the wheelchair project. We connected up with Francis in the Belize City Rotary Club, and he's been helping us find the right places to distribute the wheelchairs."
The donation is valued at 13 thousand Belize dollars. The wheelchairs are of various sizes and will be distributed only on Monday's and Tuesday's. If you are in need of a wheelchair you can contact telephone number 6-0-4-2-5-4-3.