Posted By:

Marty
Vendors Complain About BTB -

03/06/13

01:55 PM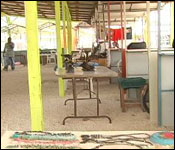 The artisans who work out of the BTB's Fort George Craft Market are tonight dissatisfied with the mode of business that they've been restricted to conducting. Over 2 years ago, the market was created to organize them in one general area where the tourists can visit, peruse and buy from them.
But according to them, business has been bad, and as a result, they've had to resort to leaving the market to approach tourists to convince them to buy.
They told 7News that if the tourism police officers will enforce the rules against them, no one should get preferential treatment. Here's how they explained it to us:
Timmy Stamp - Crafting Vendor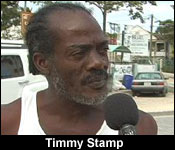 "In the yard where they have us selling carvings, it's not working. Nothing is not happening in there. So, I have to come out and walk on the street for me to make a dollar. If you don't walk on the street, you will not make anything."
Daniel Ortiz
"You have to approach people?"
Timmy Stamp
"Yes, you have to approach people. You can't wait for people to come to you, or nothing will not happen. They told us that we can't afford to walk on the street and sell our carvings. They told us we have to stay in our yard and sell our carvings, but nothing is happening in the yard. We can't stay in the yard. There are people right now who are not even a part of the tourism association, that are out there selling carvings on the corner of the streets. I don't think it's fair. Lots of the policemen who are doing toursim policing, enough of them are taking bribes. Some of them are taking $10-$15 dollars under the table. I will not pay them anything. I will not give them anything. So they will always pressure me and knock me down, because I will not give them a copper. I am not happy with them."
Roy Young - Crafting Vendor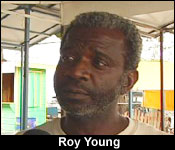 "We used to be on the street operating, selling our art work to the tourists as they come off the cruise ship. And even the tourists, when they come off the ship, say it's better when we used to be on the street. Now 2 years ago, BTB put us in this horse stable, and what has happen is that we're not making any money. So what most of us start to do, is that we walk on the street with the jewelry on our hands, trying to make money on the outside because the tourists are not coming inside. For some reason they're scared. So any time we walk on the street, the police officers keep telling us that we can't walk on the street because we have a permit to be in the horse stable. So we can't go outside on the streets. Yet, they have other venders out there on the street selling stuff. So I want to know what's the difference."

Daniel Ortiz
"Does it not become disorganized when all the venders are on the street?"
Leroy Smith - Crafting Vendor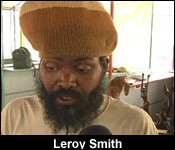 "No, well everything was in order, because before BTB came and regulate this thing, there was the City Council people that used to take care of us right. We use to pay a smaller fee, Far way smaller fee that what we have to pay now. We use to make it out there. Now these people created a new thing where they will push us away from here. We are already not making anything here, and talking about pushing us away at a park. At the park, it's worst; we will definitely not make anything."
Due to time constraints, we were not able to speak to the authorities from BTB, and we hope to catch up with them tomorrow.