Posted By:

Marty
Hon Saldivar Explains PLUS TV Suit -

04/12/13

11:19 AM
PLUS TV is facing a libel suit brought by Minister of National Security John Saldivar. Itís for a comment made by Rise and Shine co-host Jason Andrews accusing Saldivar of making defamatory remarks about his management of public funds.

Now, in the news business, there are multiple libel suits facing media houses at any given time. Mostly, they are dealt with privately and only make news if and when they go to open court. But, PLUS TV has put Saldivar on blast and is having something like a pre-trial in the court of public opinion. Today Saldivar told us that despite the flak heís taking daily, he wonít back down. And the public funds in question? He says he spent that on Turkeys.
Jules Vasquez
"There have even been aspersions that you're trying to muzzle the press. Why are you taking Plus TV to court?"
Hon. John Saldivar - Minister of National Security.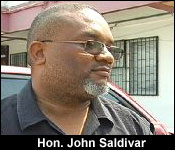 "Because I value my reputation and I believe that the words uttered by Mr. Jason Patrick Andrews was assailing my character and reputation. They disagree and that is why they have refused to apologize and retract. They feel that they were within their rights to say what they did. Only a court can decide that and that is how these matters work. If you're in the media, you know how it works. If they feel they had the right to say what they did, they take it to court. I feel that they wronged me, which they falsely accused me of something, and they assailed my reputation and I am going to court to vindicate."
Reporter
"What is it exactly that they have accused you of"
Hon. John Saldivar
"That is a matter before the court and I don't want to comment on it. I simply say that the words that they uttered, i feel, attacked my reputation. That will be decided by the court"
Jules Vasquez
"On the Wave Morning Show this morning you were talking about that, $50,000 that the government gave you, which you spent on gifts for your constituents, Christmas gifts on children and.."
Hon. John Saldivar
"Ham and Turkey, really. Turkey really was what it was spent on. I gave out close to 2,000 turkeys as a part of the Christmas cheer."
Jules Vasquez
"Has there been an accounting for those monies? It's public fund."
Hon. John Saldivar
"Those can be accounted for at the minstry that disbersed it. The Ministry of Human Development was responsible for that program as far as my constituency is concerned and the bills were paid directly to Quality Poultry Products."
PLUS TVís position is that Saldivar wants Andrews off the show Ė and is using the suit as a pressure tactic. Saldivar says he has given Wade friendly advice that the outspoken Andrews is a turn-off for viewers.