Posted By:

Marty
FECTAB Fires At FCCA's Platinum Club -

06/20/13

10:58 AM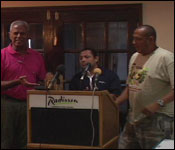 The Florida Caribbean Cruise Association – it represents 15 cruise lines operating 100 vessels in this hemisphere and, for those reasons, is considered to be tremendously influential in the cruise tourism business – a business which brings in more than half a million visitors to Belize every year.

And that's why it is news that an FCCA subsidiary called PAMAC, the Platinum Associate Membership Advisory Council is having a cruise conference in Belize for the next few days. As the word Platinum implies, this is the super elite club of cruise executives and, in tourism circles, it's considered a huge deal that they are in Belize.

We'll have more on the significance of the meeting shortly, but for FECTAB their presence here is a huge problem – and that's because they say once again, Chukka Tours, the Jamaican Outfit that's set up a tour operation in Belize is taking a place at head table – while FECTAB's members can't even get a foot in the door. There's a simple reason for that: Chukka is a platinum member and FECTAB's members aren't – but still, FECTAB says BTB should have done something to protect local interests. That was the subject of a press conference held early this morning – where the famous FECTAB fire was on full blast:…
David Almendarez - Fantasea Belize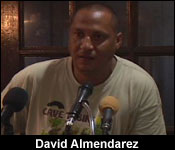 "The whole way how this platinum conference set up, stinks."

Tom Greenwood - President, FECTAB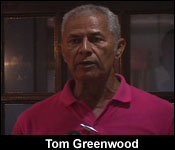 "It should have been shared, it should have been shared"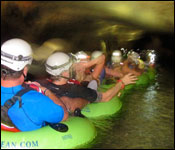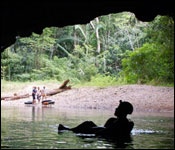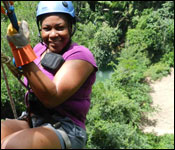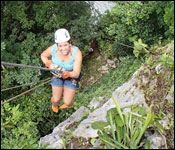 Jules Vasquez reporting
He's talking about tours, these ones offered by Chukka:
Tom Greenwood
"Well on Friday 21st of June, all yours taking place on land here in Belize will be provided by Chukka Belize. This hit us right between the eyes like a bullet, all of a sudden 'what the twelve tours are being carried by Chukka, nobody else is getting land tours' - boom volcano."
That's 12 land-based tours which Chukka is providing for free but these tour operators say they were willing to do the same.
Tom Greenwood
"They offered complimentary tours, we offered complimentary tours. In any scenario anywhere it would be shared, it has always been shared, this is a first. This opens the doors for God knows what."
David Almendarez - Fantasea Belize
"I think this should have been something where the BTB should have said ' you know something guys there are 50 people, let's see what your company is going to offer, come' - there isn't a single tour operator in here that would have refused that. Exposure to people who sell Belize in high season? That could have been the ultimate way BTB could have shown us, love for country, love for tour operators."
Tom Greenwood
"The more than 50 delegates who include wholesalers, members all of the platinum part of the FCCA and all the cruise line attending are going to be left with one single idea - Chukka, a Jamaican Tour Operator that has come to Belize and registered in Belize are the only one handling the land tours."
David Almendarez
"There are 50 registered tour companies that does business in Belize City. 50 companies could have benefited from this event that they are partaking in this week. 50 companies could have showcased their talent to this platinum group that is in Belize. And of 50 companies only one the biggest Chukka Tours Belize, seems to be inevitable in all the right places, the right times and the right hook ups."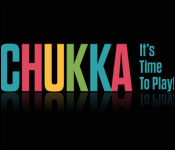 And one of those hook-ups is the fact that Chukka is a member of the Platinum Associate Membership Advisory Council – a membership which costs 20 thousand us dollars a year:

Yhony Rosado - Cavetubing.com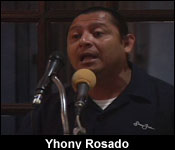 "Who made Chukka platinum in our country? Was it Trip Advisor? Was it somebody our own Belize Tourism Board? It's obvious that they are the platinum and we are the brass. By our own ministerial/government protecting us but Trip Advisor has registered us Diamond, if it wasn't for Trip Advisor we wouldn't have a job."
David Almendarez
"Platinum is a way to distinguish the have from the have not's. Ironically yesterday as my co-partner Yhonni mentioned, it was on Trip Advisor. Trip Advisor is the Mecca for tour, it's the holy grail for tour and I was perusing over it and I came across Chukka Tours Jaguar Adventure, and the platinum member only got8 reviews. Chukka Belize Jaguar Paw got 17 reviews. Of the millions of people they have taken through the caves, only 17."
Jules Vasquez
"How much did you get?"
David Almendarez
"We're getting to that. Vitalino 1,709 reviews, do you see the difference? That is alsmot over 2000 reviews, major Tom over 300 reviews, myself who is only 2 1/2 years old over 100 and add reviews and this is the person that BTB is promoting as being the umber one platinum member in our country."
A lot of bottled up anger in a small but full room where the men on the mic were talking for 50 operators:
Yhony Rosado
"The other tour operators told us to make some noise, unfortunately again they only gave us the the sword to fight but they are not here with us."
But, in the pitch and tone of their declarations, they more than compensated.
Tom Greenwood
"This is an abomination, on Friday a foreign tour operator will be hosting 12 tours for the wanted platinum conference and no Belizean operator has a part of that? In good cutters street language - that sucks! "
David Almendarez
"For the longest my generation, the status quo is to stay shut up or else they will shut down our business. All over the world the revolution is happening and we're tired. Poor people are tired, we're tired. 49 tour operators are tired of our government saying Chukka tours is the best we have to offer when we know it's not."
Yhony Rosado
"Whatever Chukka does, we can do it better and cheaper. We have gone to the bottom of the barrel to where we are now you know, we didn't come in our fancy car - we came in wheel barrow and taxi and now we have what we have because we love what we do and we love making noise when wrong is wrong. So if the BTB, if Carnaval, if Chukka - we are devil to them -then we don't care anymore. Let us be the devil's advocate because we know we're fighting for the poor local tour operators that are afraid and ashamed to make noise because of politics and because of red and blue, we don't care about red and blue. We know what we do, what time we get up and what time we go sleep and that is why nobody can't shut us up."