Posted By:

Marty
Ras Fari Passes -

10/19/13

11:01 AM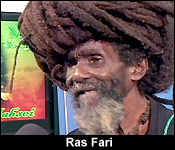 He is a musician, a book writer and a salesman out at Tourist Village and a spiritual leader. That's why tonight the Rastafarian community in Belize is mourning the death of Boyse Miller better known as Ras Fari or Tuffist. Miller was an elder of the Rastafari movement in Belize. But recently he was diagnosed with liver cancer by doctors. His fight with the deadly disease was short and came to an end on Sunday. The 68 year old first came to Belize from Jamaica in 1990 where he has resided ever since. Today his fellow Rastafarian brothers stopped by our studios to give us a brief history of Miller.
Ras Ruben
"Ras Fari came to Belize in 1990 and ever since he came to Belize he has been promoting the rasta livity. He is a Nyabinghi, he is from the Nyabinghi order, so that the house that he promotes and ever since rastafari came here he was the one that started the celebration of King Selassie I birthday annually. He has set a lot of pillars. He is our elder in the entire houses of rastafari in Belize; boboshanti, Nyabinghi - all rastafari. He is like the pillar of the movement in Belize."
"Rasa Fari died from cancer; a lot of people in Belize is plague by this cancer right now. People find time to do things like going to the moon and mars and everywhere, but cancer that is here on earth is plaguing us and its affecting us all because if you look at Belize right now the elder popular is suffering greatly from cancer, so it is something that we have all come in contact with in Belize. Everybody knows somebody that died from cancer."
Monica Bodden
"What type of cancer?"
Ras Ruben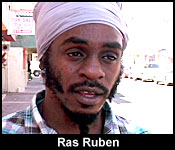 "He had liver cancer."
Monica Bodden
"How long was his fight for?"
Ras Ruben
"He was diagnosed with cancer like a couple months ago. It wasn't a long battle like that, but cancer is cancer."
"We just want to tell the people them all around - all the ras from near and far that we are going to hold a ceremonial service to lay his body to rest and for the transition on Sunday 20th of October at Rootsville, Belmopan."
"It's going to be rasta oriented and rasta led. We are going to have the road mark between miles 47 and 48. We are going to have like a flag or some kind of symbol outside to lead the people to the gathering. The funeral starts at 11 and the body will be on state from 10 for viewing."
Miller will be laid to rest on Sunday in Rootsville.