Posted By:

Marty
Almost 50% of the Population Has One Dose -

09/30/21

10:13 AM
Since the start of the vaccine campaign, numbers were crawling upwards, but now they've taken a leap and almost half the population has gotten at least their first dose. The Deputy Director at the Central Region, Dr Melissa Diaz, explained that there are plenty of reasons why this is happening, including the fact that there are four different types of vaccines available for adults and that teens are flocking to get the jab.
Dr Melissa Diaz, Deputy Director, Central Health Region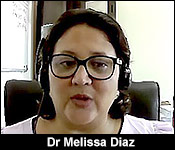 "In the latter part of August, we started with our Pfizer campaign and to date for people 12-17 years old, we have about 24,000 of these kids vaccinated already. And the population is approximately 58,000 so it's going in the right direction for sure. In terms of the total first dose given, we have about 195,000 already with one dose and we have 125,000 approximately fully vaccinated so that's almost 31% of our population at this point. And the vaccine sites continue to be full and persons continue to call to inquire about vaccines, what's available, how quickly it's available, and our groundwork continues to be done so we have educational sessions in small groups, we reach out to schools, to banks, to BPO's, to many different organization who ask us to go on and discuss a little bit about vaccines and which vaccine might be right for you."
"I feel that it's definitely multifactorial like you quite rightly said. So Pfizer vaccine has helped us significantly because of course now we can vaccinate a category of persons who previously were not eligible for other vaccines that we have in country so the Pfizer is open to everyone 18 and older and of course the 12 to 17 age group. So we have removed all limitations so to speak from these vaccines so all vaccines are open, the four vaccines are open for everybody 18 and over and the Pfizer is open for people 12-17."
"Also we've had a lot of time, from March to now, to vaccinate and I think a lot of times in our population people will watch and wait, ensure that more information comes out, do their own research, and I think more and more persons are now becoming convinced of the benefit of getting vaccinated and how important it is to reduce your severity if you do get exposed to COVID, the severity of your illness and it reduces hospitalization and it reduces death cause by COVID 19."