Posted By:

Marty
"Guess Who's Coming To San Pedro?" Michael Rose! -

07/19/12

01:39 PM
On Monday the followers of the Rastafari Religion will celebrate the 120th anniversary of the birth of Haile Selassie, who they hold as their messiah.
In San Pedro, there will be a concert to celebrate the anniversary, and the promoters have brought in the iconic reggae artist, Michael Rose, as the main event.
Rose's is one of the most identifiable voices in all of reggae music and for years he defined the progressive reggae sound of Black Uhuru.
His distinctive style of scatting and wailing is instantly recognizable - 30 years after he first started doing it.
He arrived in Belize this afternoon, and told us how he plans to delight the Belizean audience:
Mykal Rose - Artist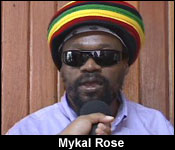 "Well, it's just to know and the Belizean people must understand that I am here. I arrived today, and they show will be great because we are here, live and in living color, so."
Promoter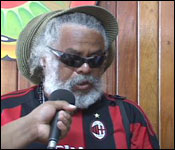 "Yes this is Mr. Rose right here. Get ready for this nice party. It's going to be on July 21, 2012, starting at 3 p.m. to 3 a.m., at the Central Park, San Pedro. Get ready. It's on."
The show, featuring 11 Belizean artists starts at 3:00 p.m. on Saturday at the central Park in San Pedro.