Posted By:

Marty
Work Underway On The Western Highway -

03/16/13

02:02 PM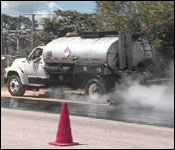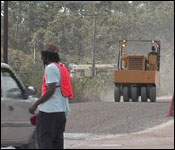 Last night we told you about the launch of the Road Safety project - and today - work on the Western Highway was underway. It's re-surfacing work on a particularly deadly stretch of road at mile 31 where many lives have been lost. Works Minister Rene Montero explained:
Hon. Rene Montero - Minister of Works

"We're concerned about the number of accidents that are happening in this road, and we're trying to minimize that, to insure that the public has a safe road and a well worthy road. We intend to expand this from Belmopan to the boarder - to the Benque Border. So right now, we're going to do a 3-phase project and then eventually we're going to do the whole Highway, the whole George Price Highway, from Belize City to Belmopan - to the Western Boarder. We have on the table right now, in the pipe line, to pave this Highway. To pave the Coastal Road, we're seeking funding for that, and also we're seeking funding for the Caracol Road, because that's a major tourist destination. But this Coastal Road has a lot of potential."
The CDB funded project is for 17.5 million dollars. At 21.6 Belize has the highest number of traffic fatalities per one hundred thousand in Latin America.