Posted By:

Marty
Teens Take on Victoria -

04/28/10

02:39 PM
Soaring into the clouds at 3,675, is the tallest mountain in the Cockscomb Range, known as Victoria Peak. Located off the Southern Highway, approximately 20 miles south of Dangriga, the mountain range remain one of Belize's most spectacular natural attractions. Summitting Victoria Peak has become for many, like Jim Scott and a group of 7 hikers including his two young children, the height of adventure in Belize.

The General Manager of Radisson Hotels who is also a member of Rotary Belize just completed an expedition to the top of Victoria Peak over the weekend, which he says was done in collaboration with the Audubon Society to promote an upcoming international race to the top of Victoria, scheduled for next year. The "Si, se puede man" told us how he did it.
Jim Scott, General Manager, Radisson Hotel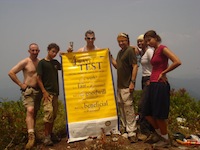 "The Rotary Clubs of Belize will be putting on next year an international race from the ranger station in the Cockscomb National Park to the top of Victoria's Peak and back in less than 24 hours. It's an event that will garnish support from Rotary Clubs around the world to a worthy cause that our Rotary Clubs here in Belize will be focusing on. that has not been identified. we have many as you know. gift of life program. water program. educational programs but we're still finalizing what the project thrust will be for this event. but it will be very, very expensive for someone to come and participate. but to garnish both the support of clubs around the world and also to garnish exposure for Belize Audubon, our natural resources, and of course, Belize as a destination."
As mentioned earlier, Scott's two children, his 15-year old daughter, Alina, and 14-year-old son, Allister, said to be one of the youngest to summit Victoria Peak, comprised the 7 member team of hikers. They spoke of the rare occasion and opportunity to take part in such an incredible challenge with their Dad.
Jim McFadzean,
"Whose idea was it to get you to go along?"
Alina Scott, 15-year-old Hiker
"It was my Dad's idea because he really wanted me to do something that involves a lot of exercise. and that had a really good purpose."
Jim McFadzean,
"Now I'm assuming this has probably been one of the biggest challenges physically for you? Am I right?"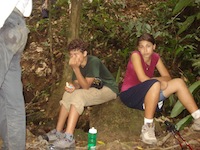 Alina Scott
"Yes it was. I'm really sore right now because it involved a lot of work."
Jim McFadzean,
"What was the greatest challenge for you?"
Alina Scott
"The uphills, definitely, because there were a lot of uphills and it was really, really steep. I felt sometimes that we were going straight up."
Jim McFadzean,
"You don't trouble from heights?"
Alina Scott
I'm actually very scared of heights but this time i think i got over my fear.
Jim McFadzean,
"What about you? Would you have preferred to have taken this challenge on probably with your friends as opposed to with your Dad?"
Allister Scott, 14-year-old Hiker
"Well I enjoyed going with my Dad. I would have liked it if both my friends and my Dad had been there because if my Dad hadn't pushed me to do this and helped me, I dont think I would have tried it in the first place.
Jim McFadzean,
"And for you what was the greatest challenge?"
Allister Scott, 14-year-old Hiker
"I'd say, yeah, the uphills."
Jim McFadzean,
"Like your father, do you get into a lot of exercise? Were you prepared for this physically?"
Allister Scott
"Yeah I was prepared for it. I'm not really that sore right now. Just my shoes started falling apart so my feet are kind of aching right now."
Jim McFadzean,
"What would you recommend for those who might be interested in such a challenge?
Alina Scott
"Exercise. Lots and lots of exercise because if you don't exercise, there's no way you can do it. And lots of training with the backpack because once you get out there and you're put under pressure, you have to try and do it."
The one way hike to the top is approximately 15 miles and is normally a three to four day hiking adventure. Scott's team completed the roundtrip expedition in a little over 24 hours. The first recorded expedition to its top was completed in 1888.
Channel 7