Posted By:

Marty
"Queenpin" Of Sea Cucumber's Black Market Arrested -

02/19/14

10:05 AM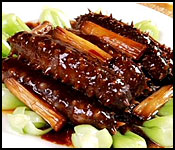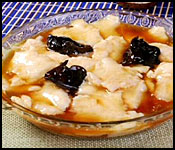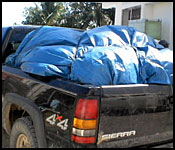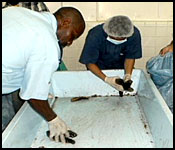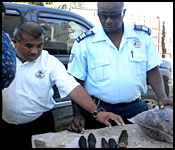 The sea cucumber season opened on Saturday and yesterday the police department's Mobile Interdiction Team made a dramatic bust of a Guatemalan woman believed to be the Queenpin of the black market trade in this prized sea creature. We found out more about the bust and sea cucumber sin general today. Jules Vasquez reports:..
Jules Vasquez reporting
This 3-inch creature is a sea cucumber - we found it at a local restaurant. Not very impressive right? In fact it looks deserving of one of its colloquial names, Donkey Dung.
But, put it in boiling water for a few hours and it blows up - three hours later this is how our sea cucumber looked. It's a Chinese delicacy; they usually stew it, and enjoy the gelatinous insides.
It may not be your cup of tea, but a dish like this will sell for one hundred dollars locally and about 165 US for just one in China.
And that's why it's big news that this pickup - its pan stuffed with 7 thousand of these sea cucumbers weighing over three thousand pounds - was intercepted in a bust by the Mobile Interdiction Team yesterday morning. It happened at a checkpoint at mile 31.
Hampton Gamboa - Fisheries Supervisor, Conservation Compliance Unit

"A truck came through the check point at about 3:15 thereabout. Officers searching the vehicle found a large content of sea cucumber in this vehicle. We made arrangement for them to bring the sea cucumber and all the occupants of the vehicle to Belize City here which they did assist us with. Upon reaching here checking the quantity of the product, there was a substantial amount of sea cucumber and all 3 of the 4 occupants of the vehicle were of Guatemalan nationality."
Yesterday, 3 of them were taken to court for nationality offences and today again for fisheries offences.
Hampton Gamboa
"What applies here is the fact that the individual who have taken the responsibility doesn't have a sea cucumber license to harvest sea cucumber in Belize. The said individual doesn't have an export license either for sea cucumber, so in her possession the quantity that she has and everything is totally illegal. In terms of the sea cucumber and the actual licensing process, first of all you have to be a Belizean national which she is not. An operation of this magnitude with the quantity gave one to believe that she was going to export it, so we can charge her for attempting to export sea cucumber without valid export license."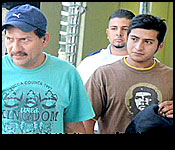 The alleged Queenpin of the operation is 49-year-old Georgina Maribel Mendez Aldana. She has a home in Monkey River - but operates principally out of Guatemala where she is believed to be a key figure in the black market of the sea cucumber trade:
Hampton Gamboa
"This woman in particular is one individual that we've been monitoring from last year when we got some information. We found out that what happen is that she was trying to encourage some of the locals to harvest sea cucumber during the close season and she will pay them. Roughly from my data information that these guys gave to me was that she would purchase from $5 -$8 during the close season."
She then sells that for 21 Belize dollars a pound to the middle market - which is still just a fraction of how much it can sell for at a restaurant in China or the US.
Hampton Gamboa
"If you Google sea cucumber and purchasing a sea cucumber in the Asian market, a plate of sea cucumber which would have 1 or 2 on it will run you about US$100 plus per plate."
Still, this haul - even at the base export value - is valued at 65 thousand Belize dollars. And now that the market has been opened in Belize, the exploitation of this resource is expected to continue - they hope they have put a dent in it with this bust:
Hampton Gamboa
"Now this said individual that we have detained is one of the people we have gotten these report about illegally shipping it through into Guatemala like what you mention and even purchasing. If there is not a demand for certain a thing you won't have people entertaining it in terms of harvesting during the close season. We hope that we can deal with this individual strongly so that it sends a message to the rest of exporters who is even thinking of trying to enter the black market and things like that because these things create problems; it helps destroy our industry mush faster."
49-year-old Georgina Maribel Mendez Aldana was arraigned yesterday for the immigration offences of employing persons not in possession of a valid employment permit. The Immigration department says that she illegally hired 22 year-old Guatemalans Cesar Gerardo Ramirez, and 52 year-old Hugo Rolando Orellana Salas. These men cannot be lawfully employed in the country.
She pleaded guilty to the offences, and she was ordered to pay fines to a total of $2,000 forthwith, which she was able to do. She was immediately re-arrested, and charged with engaging in commercial fishing whilst not being the holder of a valid Fisherman's License; attempting to export fisheries without a valid exporter's license and engaging in the fishing of Sea cucumbers without a special license.
Because her attorney didn't show up to court today, Magistrate Leslie Hamilton postponed the hearing for Friday.