Posted By:

Marty
Belizean Patriots Honoured -

09/17/11

02:00 PM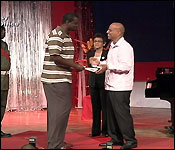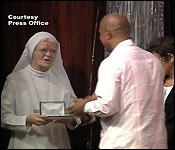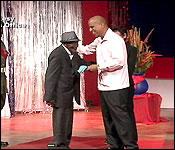 Twenty-eight Belizeans were honoured last night at The Bliss Center in this year's Tribute to Belizean Patriots ceremony. The recipients include:
For meritorious service:

Belizario R. Carballo,
Joel DARA Robinson
Wilfred E. L. Nicholas, Sr. and Carlton L. Fairweather,
Both posthumously, Fr. John J. Stochl,
Lillian August, Adelia Young, Olga Blades, Sharon Matola
Deanna E. Nisbet, Myrna D. Pitts among many others.
The order of Distinction went to the great Parandero Paul Nabor - for his contribution to culture and music and Lawrence Vernon, For contributions to the development of the Belize National Library Service.
And the night's highest honour, the Order of Belize went posthumously to Edward A. Laing - the preeminent Belize international jurist who received his award for contributions to law.