Posted By:

Marty
Can PUP Return To Form For An Early Election? -

11/01/11

02:09 PM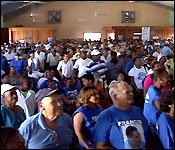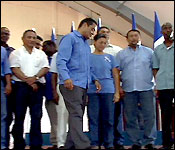 After a month of often-embarrassing upheaval, tonight, the PUP faithful hope that their party is on the road to recovery with the endorsement of a new leader on Saturday.
Francis Fonseca - whose career has been defined - for better or worse - by duty to his party, was endorsed as PUP leader on Saturday morning at the Holy Redeemer Parish Hall.
It was a Special Convention - convened to try and breathe some life into a party that was on the verge of becoming a wake, one that didn't even have a named leader of the opposition at the last House Meeting.
Did Fonseca give the party the vigor and direction it had been lacking recently? Jules Vasquez was there to gauge the mood:..
Jules Vasquez Reporting
The Parish Hall was full to overflowing with about 800 supporters from across the country.
While all 29 of 31 standard bearers were there with the exception of Senior Deputies Mark Espat and Cordel Hyde.
And while there were no caliente dancers, there was Garifuna drumming and dancing that entertained the crowd outside.
Inside, entertainment was handles by surprise guest speaker Dickie Bradley - who sort of came out of political retirement - after he'd abandoned the PUP:
Dickie Bradley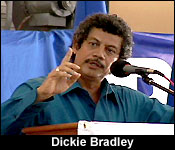 "By the way I was looking for a blue shirt, I don't even have a blue shirt again, I was so discouraged with the PUP. It is only this one Chetumal shirt I was using over and over. The next time that my wife goes to Chetumal I will get a nice pretty blue shirt! Because I am now proud to be back in the PUP!"
"For the last almost 4 years - the PUP were quarrelling, some were taking this side and some were taking that side. All kind of foolishness was happening in the PUP. We are 4 years behind. This is no easy road, this is very hard, we are behind. When you are behind in a race you have to run harder!"
That being behind was a recurrent theme throughout the day:
Rt. Hon. Said Musa - Former Party Leader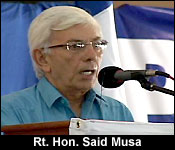 "During the past few weeks our party the PUP has been through a difficult and tumultuous time, but today we have a new leader."
Dickie Bradley
"Today is Christmas Day for the PUP because we have a young, dynamic leader, Hon. Francis Fonseca."
And as Fonseca took the oath to become the sixth leader of the PUPů
Hon. Francis Fonseca (taking oath)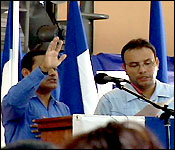 "I pledge to work for the achievement of the aims and objectives of the peaceful, constructive Belizean revolution."
He did so with the explicit support of his outgoing leader John Briceno:
Hon. John Briceno - Immediate Past Leader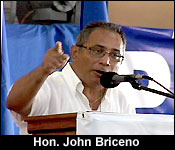 "All of us, every one of us must support Francis, so that together we can rescue the Belizean people, so that together we can rescue Belize and so that together we can go to Belmopan and get rid of Dean Barrow and United Democratic Party."
For his part, Fonseca all but apologized for the party's recent history:
Francis Fonseca - 6th Leader of the PUP
"We belong to a great party with a proud legacy of service to the Belizean nation and people. But we must also accept that out part at time failed the Belizean people and failed to meet the standards of its own creed. At times we have lost out way and failed to stay through to our motto "serve the people." At times we have allowed the rising tide of greed and inequity to erode the strong social justice roots upon which our great People's United Party was founded and built. At time we have given the Belizean people caused to believe that we are more concern about the interest of a few and not the many. I pledge to you and our nation today, those times are behind us!"
And Fonseca says that what he calls undermining is also behind the party:
Francis Fonseca - 6th Leader of the PUP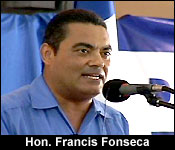 "This is no time for any of us; any of us to be standing on the sidelines with our arms folded waiting for the new leader to fail. No time for undermining a new beginning. The message is very clear from everybody in here today and everybody who has spoken - there will be no tolerance for undermining the work of the People's United Party!"
Geovanni Brackett, reporter
"You said in your speech that you will not tolerate undermining of the political party. Some will see that some of the absences of Hon, Cordel Hyde and Hon. Mark Espat as undermining. What are your thoughts? And can you elaborate?"
Francis Fonseca - 6th Leader of the PUP
"We have 29 other standard bearers who have place everything on hold in their lives for this party and they are sacrificing for this party - they are working hard. They are the ones who you have heard from today. They do not want any undermining to continue."
Aaron Humes, Reporter
"But at the same time Mr. Fonseca today's convention there was a lot of seeming bitterness towards Mr. Espat and Mr. Hyde in particular although sometimes they were not mentioned by name. How do you plan to combat that as you move forward?"
Francis Fonseca - 6th Leader of the PUP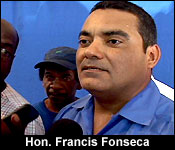 "Well as I said in my first response to Jules, we have to sit down as 31 standard bearers in a room and discuss that matter. That is what we are going to do. I as the leader have to manage that situation - that state of affairs."
And he will be managing multiple states of affairs, not least of which is getting his party election ready:
Francis Fonseca - 6th Leader of the PUP
"There is no time to waste my friends. Starting next week we will embark upon an aggressive nationwide media campaign - exposing the failure, the incompetence and corruption of the UDP government! There will be direct intervention with standard bearers and your executives and your committees to ramp up their organizational capacity and election readiness. We are going to be ready for Mr. Barrow whenever he wants to call the election! Let the word go forth today from Holy Redeemer Parish Hall. Today the People's United Party is back! We can win! We will win! The people's United Party is back!"
And while the leader got fired up - he will need more than fire he will need money:
Jules Vasquez
"The PUP is indebted and the PUP is broke. It's not in a good financial condition - let's put it like that. How will you move forward? a party needs money to operate, that's just real."
Francis Fonseca - 6th Leader of the PUP
"This won't be an election where the People's United Party has a lot of money. Let's face that, we won't have a lot of money and we won't be relying on big donors. But I am confident - as already started over the past week that a lot of small business people, a lot of other Belizeans who are able to will contribute to the party, will support the party."
Jules Vasquez
"Will you call upon your cousin Ralph Fonseca to assistance? We know that in the past he has been a very successful campaign manager for the PUP."
Francis Fonseca - 6th Leader of the PUP
"Ralph has served the party for about 24 years, he has retired from politics and he has no intention of coming back into politics. If I can benefit from his counsel and advice I would be foolish if I did not benefit from that but he have no role in the national executive in the People's United Party and has express absolutely no interest in coming back. He will not be running for the People's United Party in the next elections."
Jules Vasquez
"Will he be attracting financiers?"
Francis Fonseca - 6th Leader of the PUP
"Well if he can be helpful in that regard - sure. Obviously as I said we will try to get support from where ever we can get it but that support will not be conditional upon the PUP compromising its fundamental principles and objectives."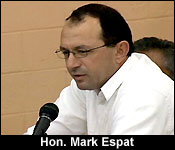 Fonseca's entire address to the gathering will air as a paid ad after this newscast. Fonseca confirmed that there will be changes on the executive, including some streamlining of the 36 member group. With the support of Briceno, Fonseca also expects to be sworn in as leader of the opposition in the house. He says he doesn't expect that Senior parliamentarians Mark Espat and Cordel Hyde will oppose him.
And while much was made of the fact that Senior Deputies Mark Espat and Cordel Hyde weren't there - the divisional committees for Albert and Lake - I were in attendance.