Posted By:

Marty
BZE PM Learns Lessons From Jamaica Election -

01/05/12

02:18 PM
And speaking with us today, the Prime Minister also discussed the prospect of an early, or very early election.
We know... That question has been asked and answered many times, but it's 2012 - and the event horizon seems crowded with the possibility of an imminent election.
And in that regard, it might be instructive to look to Jamaica where the ruling JLP called an early election and was soundly defeated by the opposition, PNP.
The Prime Minister told us he watched that election and learned that it's better to call it early rather than late:..
Jules Vasquez
"Did the outcome of the Jamaican elections, where the JLP was so roundly defeated - blown away really - is that having any influence on how you are timing your election here locally in terms of JLP having a lot of problems, but among them was the economy which is a problem that leaders worldwide - yourself as well - has been dogged by?"
Prime Minister Dean Barrow - Prime Minister of Belize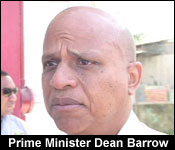 "Except that we are so much better off that Jamaica, than the JLP was. I've just said that looking at the Statistical Institute of Belize's figures; we will grow by excess of 3%. So comparatively speaking, we are not suffering to anything like a similar degree when you compare us to Jamaica. Also, a friend of mine sent me an analysis done by Dr. Gayle, and I saw where he said that the JLP loss certainly cannot be blamed on the JLP having called the elections early. In fact, he said that if the JLP had waited longer, they would have lost by an even greater margin. If I were to be as certain as can be that I would lose an early election, what is there to gain by putting it off? We are not in any kind of a hustling mode, so you don't hang on until the last moment, if you think that you will lose, so that you can make off with the people's resources, no. Face the people and don't be afraid of the consequences, if your conscience is clear, you respect the democratic process, and if you feel that you have done a sufficiently creditable job to entitle you to a new mandate. Face the people as well, if you feel that there are pressing issues such as perhaps the nationalizations, which are now being challenged in court, notwithstanding the constitutional enshrinement. Go to the people if you want to signal to the CCJ that the Belizean populace, the Belizean electorate is supportive of the constitutional enshrinement of public utilities. There are very many reasons that I can think of for calling the elections well before they're due. I say again that while I've told you - I've gone on record - as making it clear that the elections will be this year rather than next year. When this year, is still up in the air, and as of now, my preference is to have the municipal elections first. That will give us a good read on where we are to have the general elections a few months, thereafter."