Posted By:

Marty
Will PM Dissolve House OF Reps. On Friday? -

01/12/12

02:07 PM
And so, with the insider trading issue at Social Security brought to a dramatic intermediate conclusion, the government moves now towards Friday's House meeting.
The business of the house meeting is to pass the write-off motion for the 780 mortgages which will cost government 6.9 million dollars.
Government is also expected to announce the new proposed electricity rates from the Public Utilities Commission - and will introduce legislation to implement those rates by the start of next month.
And while all those are of public interest - what folks really want to know is whether the Prime Minister will call the election. Speculation has been rife that the house will be dissolved on Friday and that the PM will call a snap election.
Today we asked him about that:
Jules Vasquez
"Will you dissolve the House on Friday?"
Prime Minister Dean Barrow - Prime Minister of Belize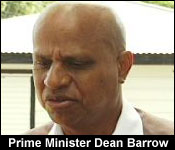 "Absolutely not, I can tell you categorically that I won't - I can't tell you when I will dissolve it, but I can tell you when I will not dissolve it, and that is Friday."
Jules Vasquez
"Will you announce the date for elections on Friday?"
Prime Minister Dean Barrow
"Absolutely not."
Jules Vasquez
"Fair enough."
The House of Representatives must be dissolved a minimum of one month before an election is called.