Posted By:

Marty
Cordel Hyde Steps Down -

02/04/12

03:19 PM
PUP Lake-I Incumbent Cordel Hyde Steps Down, 2nd Candidate To Step Down In A Week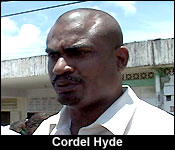 Three-time Lake I Area Representative Cordel Hyde has stepped down; he will not offer himself to run in the 2012 General Election. It's the kind of thing that could have been expected - but still, it arrived as a genuine stunner.
After all, Hyde is considered to be an unbeatable incumbent - in one of the PUP's only safe seats in the country. But with just over a month to go before the general election, he's simply walking away. In an emotional statement issued today, Hyde explained that his son "Khalid was diagnosed in New York on Monday night with a cancer called Hodgkin's lymphoma." The statement says that, quote, "It is curable, but he will need the full support of his immediate family." And then he goes on to say, quote, "I have given 18 years of my life to politics. For all of my adult life I gave it all I had. But there comes a time when a man must face up to certain realities. For me, that time is now."
And what are those realities? He explains that, quote, "the relationship with my party's leadership over the years has not been the best. Sometimes the internal tension spilled over into the public's domain with me not attending some party and parliamentary events…." He adds that, quote, "People around the table will know that I agitated mightily inside for the party at its every turn to do what I thought was right for the people and country of Belize. It is no secret: I lost many of those battles. My absences were oftentimes my desperate but sincere attempts at getting the party to see the error of its ways, to return to its social justice roots."
And those with knowledge of the situation suggest that's what's behind his departure. Basically since the G-7 of 2004, Cordel Hyde has been at odds with the leadership of his party. He has been fired from the Cabinet, resigned form Cabinet, relegated to the backbench, and recently dumped from his party's executive.
The withdrawal of his candidacy now can only be seen as the culmination of that long period of adversity - where he felt the party was moving away from its social justice roots and he was trying to bring it back.
In closing his departure statement Hyde makes a passionate plea to the voters who elected him three times. He says, quote: "I did not win three straight general elections on my own. I came here on the backs of the hardworking men and women of Lake Independence…"
His impassioned closing says, "To my people: You stood with me through thick and thin, when I resigned, when I was fired, when I had nothing. You gave me strength when I had none. You gave me hope when I had little. But most of all, you gave me your hearts.
I hope that someday, long after the euphoria of elections have passed, and our names are forgotten, you will look back and say, we did it our way - the Lake I way. We did not yield; we never gave in. May it be said that we never lost our way, that in the days when hope unborn had died we stood strong; together we made the ultimate sacrifices." And he ends on a biblical note, and we quote:
"Scripture says there is a time for everything under the sun. I believe my time has come. For me, this campaign has come to an end." It's an elegant ending, but in reality it's not that tidy. The new leader of the PUP Francis Fonseca removed Hyde as a senior Deputy just three months ago - and now that he's stepping down, the PUP loses a sure seat, one of its six representatives and one of its most promising, engaging candidates and personalities. They also lose any possibility of mending fences with the KREMANDALA Media group.
And so what does party leader Francis Fonseca have to say about all of it? We caught up with him this afternoon and he told us that Hyde called him this morning and discussed his decision based on his child's illness. But Fonseca said he is aware that Hyde also felt the party had lost its social justice moorings:..
Francis Fonseca - Leader of the Opposition - PUP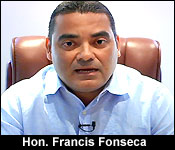 "My position has always been 'let's work non it together.' You have to be around the table. You have to be engaged. You have to be a part of the solution. It won't happen on its own and so I think for me I understand what he is saying. I understand perhaps his frustration, but these things won't be solved on their own. I became the leader in October of last year and I reached out to Cordel and Mark. I said to them 'listen, I understand your concerns about the direction of the party, come and join me. Help me to fix it.' if you believe we are going in the wrong direction, sit with me around the table and help me to chart a new course and to find our way, if you think we've lost our way, come work with us and help us to find our way."
"But that never happened and I still cannot provide a reasonable explanation for why it hasn't happen."
Jules Vasquez
"Do you in any way blame yourself in so far as it was under your leadership, under your shaping of the executive that he was dump as a senior deputy and in deed perhaps if he have not been so remove as a senior deputy he would not have felt disrespected as the Amandala mentioned a few weeks ago."
"And maybe who know (its conjectural) but maybe he would not have left at such a critical time."
Francis Fonseca - Leader of the Opposition - PUP
"No, obviously anything that happens in the party, as the leader I have to ultimately take responsibility for. So I don't shy away from taking responsibility for anything that happens including this."
"But he wasn't dump from the national executive. An invitation was extended to him to be a part of the national executive. He for reasons yet unexplained decided that he would not come to the meeting of the national executive. He was invited to be there when we were making decisions to say whether or not he wish to continue serving on the national executive. At no time did I want to remove Cordel Hyde or Mark Espat for that matter from the national executive. I was very serious. I got a mandate to lead this party, we have a limited time between now and elections. When I took over the party it was clear that we were heading into elections. I got a clear mandate; we have to make decisions about the future of the party."
"What was going on for 7 years could not continue. Under John Briceno's leadership for 4 years, the fact is that he got very little support from these senior deputy leaders. I did not want to pretend that all was well when all was not well. So I made it very clear to them that I want them to engage but it has to be real engagement. We have to work together. We have to fight if we were going to have a chance to win the elections."
"I didn't want people just sitting around the table for the sake of sitting around the table. I wanted real engagement. I wanted people to be participating, working and when it was clear to me that that was not the case. I made a decision to form a national executive made up of people who have said to me in very clear terms that they were prepared to work for the party."
Jules Vasquez
"Now what will happen next in Lake Independence? it was up until now considered a sure seat for the PUP and there aren't a super abundance of those in any party. Are there immediate short term plans, near term plans for that?"
Francis Fonseca - Leader of the Opposition - PUP
"We've been planning. As a responsible party we've had to plan for any of these eventualities. Obviously I have tremendous respect for Cordel Hyde. Obviously he is a very successful politician and a 3 term representative. He has been an excellent area representative for the people of Lake Independence. You can't fill Cordel Hyde's shoes and you can't fill it in 5 weeks before an election."
"We want to get obviously the input of the committee. I spoke to Cordel about this matter and he said he didn't personally want to recommend anybody. He believes it was best for that to come from out of the committee in consultation with the party."
"I think that's the best approach and that's the approach we will used. Obviously there are people who have come around, we've had about 3-4 people already today that expressed an interest in running. I believe some credible names, but we have to engage with the Lake I committee and it has to be someone that they respect. Someone that they can support and someone that they can embrace."
"I still believe we will win Lake Independence. It is a PUP division at its core. We just have to go in there and make sure the people understand that the individual has the full support of the party and that the committee and the people who supported the PUP in that area will have the full support of the party."
Jules Vasquez
"The fact is Mr. Leader; we've had 2 resignations in 7 days. Are captaining a sinking ship?"
Francis Fonseca - Leader of the Opposition - PUP
"Not at all Jules. As my mayoral candidate Karen Bodden reminded me this morning, 'sometimes its darkness before the dawn.' So yes we are going through difficulties. I would much rather be sitting here talking to you about our plans to create jobs for Belize and to move the economy forward and talking about the UDP record of mismanagement of the Belizean economy."
"Sure, so these things take us off course, they take us off track. Whenever you lose quality people like Anthony Mahler and Cordel Hyde obviously it is a blow to the party. I am not trying to belittle that in any way or minimize that it any way. It is a blow to the party. But what I think is important is how you respond to those things and I think the way we responded in Caribbean Shores demonstrates our ability to get things right, to fix problems when we have problems and that's what we have done."
"I had an opportunity today to talk to about 24 of my standard bearers, everybody has their chin up. Obviously they are concern because we've lost a strong brother, but everybody has their chin up. They are out in their constituencies fighting and working hard and that's where this election would be won and lost. On the ground in our constituencies taking our message to the people and I remain confident that if we are able to do that effectively and I think we are and we are able over the next 5 weeks to get out our positive message of how we intend to create jobs for the Belizean people. How we intend to grow the economy; create economic opportunities. I think that's where people will focus on at the end of the day. Come March 7, we will be able to win a majority of the seats to form the government of Belize. I remain confident about that."
Jules Vasquez
"Finally Mr. Leader, are you expecting anyone else to resign/ step down?"
Francis Fonseca - Leader of the Opposition - PUP
"I think Jules in all honesty the same thing may happen in the Albert division. I have heard nothing from Mark Espat. But I have to anticipate that that is a possibility. Because of that very fact I heard nothing. But apart from that I am confident that nothing else will happen. But as Mr. Price told us so many times that the People's United Party is an institution of the Belizean people and no one personality is bigger than that institution. We have to be guided by that. We take our blows and we keep on rolling."
And so, that's where it is tonight, the PUP facing two candidate resignations in a week - losing its grip on a sure seat and facing the possibility - as Fonseca alluded to - that another sure seat may go down as well with Mark Espat.
But as of tonight, he is staying put in Albert - though the rumours are wild that he has stepped down - which is inaccurate. We'll keep following the story into next week.