Posted By:

Marty
VENEZUELA AND BELIZE STRENGTHEN TIES -

06/19/13

11:49 AM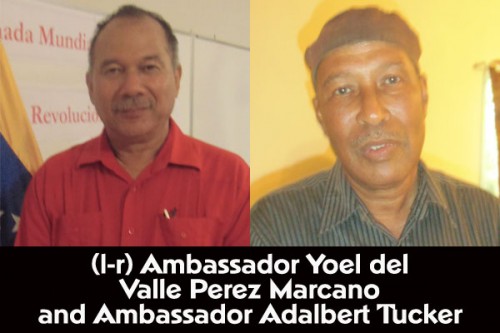 The Embassy of the Bolivarian Republic of Venezuela in Belize held an "Act of Friendship and Solidarity" activity today, Saturday, in the city of Belmopan.
The purpose of the gathering, which was held at the Venezuelan Institute for Culture and Cooperation (IVCC), was for the people of Belize to be reassured that Venezuela will continue to build their political and economic relationship.
His Excellency Yoel del Valle Perez Marcano, Ambassador of the Bolivarian Republic of Venezuela to Belize, said in his address that the economic, political, and military sectors of his country are being threatened by Venezuelan and Latin American opposition groups. He went on to add that those in opposition are seeking support from the United States government in overthrowing the democratic government of President Nicolas Maduro.
He said that overthrowing President Maduro would lead to an end of policies of cooperation, integration and solidarity that the country has already formed with Latin American and Caribbean sister nations. For that reason, the Venezuelan government is seeking to further strengthen their ties with those nations without foreign interference.
Adalbert Tucker, Ambassador For Foreign Trade and Head International Cooperation for the Government of Belize, told us that the day's activity was an opportunity, not only for Venezuela to show their solidarity but also for the Belizean people to offer their encouragement to Venezuela as the country pushes for increased solidarity.
"[It's] to give encouragement to Venezuela to continue the good work it is doing for democracy, for progress, development for the people of the Latin America and the Caribbean, " he said. "President [Hugo] Chavez and Venezuela embraced all of us as part of the family. And that Bolivarian Revolution is what we need to become human beings in the 21st century. He shared wealth, ideas and he also encouraged us to share back with them what we can share," Tucker said.
Petrocaribe is an oil-purchase alliance between several Caribbean nations and Venezuela. The alliance, which is to promote economic cooperation and solidarity, was signed with the Venezuelan government under former President Chavez. The Belize Petroleum Energy Company was established to coordinate activities under the project.
Tucker said the current state of political affairs in Venezuela should not affect the Petrocaribe project between Belize and Venezuela.
"I gather that everything will be renewed and reviewed as we're going along because it is a dynamic program but I believe that the Venezuelan government remains totally committed," he said. "We must make the best use of that solidarity, use it productively and also multiply it. And in that way that will adjust any little changes that may occur," Tucker said.
Tucker told us that he believes that Belize should see Petrocaribe as a partnership.
"We must be dynamic and make contributions and the most important part of that contribution is to make our own involvement so that Petrocaribe is not just an 'I'; it's a handshake and friendship between peoples," he said.
He added that the solidarity and friendship between the two countries can also blossom into more benefits in health, education, and initiatives to safeguard the environment and combat climate change, as well as in market expansion.
Ambassador Marcano said that the event showed the Government of Belize's continued support of, and solidarity with, the government of Venezuela.
Marcano said that the support of Belize and other countries that are in solidarity with Venezuela will be of great benefit to the country.
"We want democracy and peace; we don't want any other interference in our country," he said, and went on to add, "We call on all the people of the Caribbean and the region to support the solidarity in Venezuela."
Marcano said that the change in presidency in Venezuela will not affect agreements made during President Chavez's time in office.
"All the projects and programs that have been signed and agreed by the Government of Venezuela will continue with our new president," he said, and further stated, "The agreement with Petrocaribe has been initiated already and we are trying also to continue a program in agriculture and also in regards to education."