Posted By:

Marty
Petrocaribe Rates Not Going Up -

09/03/13

10:56 AM
As you might have heard the Prime Minister say at the top of the newscast, the new National Bank is being capitalized by Petrocaribe funds. As we've reported that money comes from sales of fuel imported into Belize from Venezuela, for which Government only has to pay half, while getting the other half on credit at very favourable terms.

But how much Petrocaribe money does government have? We've also heard that Petrocaribe finds will be used to build new sports facilities under Belize Infrastructure Limited. Well, the PM isn't saying how much is in the bag, but it's clear he hopes Petro-dollars can push an economic boom in the second half of the year:..
Hon. Dean Barrow - Prime Minister of Belize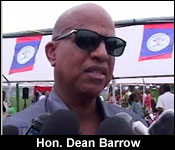 "This economy is going to grow by leaps and bounds because of this huge infrastructure push that government will make and as I'm saying - I have the where it all to fund."
Jules Vasquez
"Are you able to say that there are reports in the Caribbean - they have been addressed in Belize but the funding for this Venezuelan initiative is going up from 2% to 4% which will make it less attractive?"
Hon. Dean Barrow
"It's now at 1% and the Venezuelans tell us that they have made no such decision so that report appears to have been untrue, perhaps premature. According to the Venezuelans - it remains at 1%."
It has been widely reported in the Caribbean and central America that the interest on Petrocaribe is being doubled.