Posted By:

Marty
GDP Growth Flatlining -

12/18/13

09:58 AM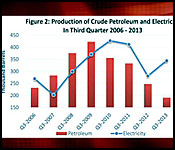 The latest economic indicators have been released by the Statistical Institute of Belize - and for the government of Belize they aren't good. First off, GDP growth has more or less flatlined. The SIB says that from July through September this year, the economy expanded by 0.3 percent when compared to the same period in 2012. That puts the cumulative economic growth for the first nine months of 2013 at a marginal 0.4 percent - which is very far off from Government's projected GDP growth rate of 2.5%.
What's causing the sluggish economic performance? Well, the SIB monitors production from all sectors and it says downturns in Agriculture and oil production are the major factors. In Agriculture, banana production fell by 6 percent, while Oil production was down for the third consecutive quarter, and recorded its lowest output since 2009. As has been reported this is because the Spanish Lookout oil field is near depletion.
SIB reports that Transportation & Communication sector was also down by 2.3% while Fishing was down 3%. In fishing they report that lobster production, quote, "plummeted by a large margin."
But some areas did experience growth: the Electricity and Water sectors were the best performers, rebounding by 20 percent after four consecutive quarters of double-digit decline. The Hotels and Restaurants sector grew by more than 7 percent, making it the second largest contributor to the economic expansion. Government did its part, with services expanding by 4.4 percent. But wholesale and retail distribution grew by only 2%, Construction was less than that.
Beer, soft drink and rum production rose by 3 percent, offset by an 8 percent decline in flour milling - where cheap Mexican imports undermined that sector.
And moving from GDP to the Consumer Price Index, the Statistical Institute reports that inflation for the first nine months of 2013 was only .3 percent.
The Consumer Price Index for September 2013 was 0.8 percent higher than in the same month last year. This list shows that the price of Ground Beef Beef Steak Rice Flour Red Kidney Beans Eggs, Condensed Milk - Dutch Lady Milk - La La Light, Yellow Onions Sweet Pepper Carrots Regular Gasoline Diesel, Butane were all up, while Banana was stable and Orange, Whole Chicken Premium Gasoline were down. Overall, food prices were up by 2.3 percent, the most notable changes were in those of beef, rice and vegetables. For vegetables the increases were most significant for cabbage, lettuce, onions, tomatoes, sweet peppers and both red kidney and black beans. Poultry prices, on the other hand, went down by one percent.
There were price increases in the Transport, Housing, Water, Electricity, Gas and Other Fuels), and Food and Non-Alcoholic Beverages, which were offset by lower Clothing and Footwear prices and insurance premiums.
Across the six municipalities in which prices are collected, Belmopan had the highest rate of inflation. The lowest was in San Ignacio, while a negative inflation rate was recorded for Orange Walk Town.