Posted By:

Marty
Visitors Safe After Boat Sinks -

09/01/12

12:44 PM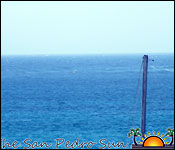 Tonight, an American couple is safe on dry land after boat they hired for a private tour sank in the waters near San Pedro Town.
The San Pedro Sun reports that at around 1:30 p.m., 48 year-old Allen Gibson, and his wife, 54 year-old Nancy Kluve, both residents of Orange County, California were on a private tour about a quarter mile east of San Pedro Town on the 25 foot vessel "Baby Jazly", which is owned by 39 year-old Belizean Sherman Cain.
Reports are that there was an unusually large wave which slammed into the vessel and it sank in the Tuffy Channel.
Fortunately, those aboard the vessel were rescued by the authorities, but according to the Sun, they were on an unsanctioned tour. The newspaper reports they confirmed with police that Cain did not possess a valid Tour Operator's License.
The American couple told police that they were returning from the Esmeralda dive site to their hotel and upon reaching near the Tuffy Channel Area, they capsized and sank. Police are still investigating what caused the vessel to capsize, and they have confirmed that Cain will be charged by the relevant authorities.