Posted By:

Marty
Massive Problem Croc Caught On San Pedro -

09/24/13

10:49 AM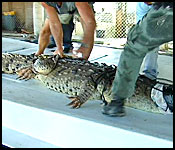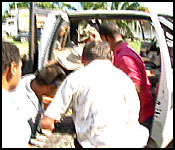 A 700 pound 11 foot American Crocodile was brought in from San Pedro Town today. It's what is known as a "problem croc" because it has lost the fear of humans and is feeding on their pets and their food. More than that, the massive reptile has been seen slithering through backyards at the back of the San Juan area of San Pedro. With all that, the folks from ACES, the American Crocodile Education Sanctuary have been trying to trap the problem croc and they finally snared it today. With the assistance of Quality Poultry Products which provided a boat, they brought the croc to the city for further transfer to their facility in Ladyville. We were at Quality Poultry when the very big boy was brought in:..
Vince Rose, ACES
"This croc has been patrolling the backwaters of San Pedro, all the back houses eating their dogs basically for the last couple of years. We had caught him a long time ago and hasn't seem him since. We finally caught him in San Juan area of San Pedro and the Quality Poultry Chicken had donated their services to bring the croc from San Pedro to here."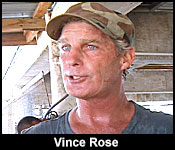 "We we are doing that is because he is a problematic croc; he has lost his fear to humans. He will attack and bite someone one day because he has lost his fear to humans. He is now our going to our facility in Ladyville in the Brigitte Bardot pen which was founded by Brigitte Bardot and Brigitte is going to have a nice handsome boyfriend to deal with."
Jules Vasquez
"Looking at him, he looks quite robust. What is his physiology like?"
Vince Rose, ACES
"Although he is only about 11 feet, he is extremely large which means he is probably about 40-45 years old. He' got some years on him and the size of his girth is just enormous. He has been eating well, I don't know how healthy. He should be eating shrimp, fish and crab - then you see more of a solid muscle of a crocodile. He looks a little jelly-belly fat which means he has probably been eating a lot of junk food; whether it be dogs, garbage that people throw away in the water ways,"
Jules Vasquez
"What's your process now? Quality Poultry brought him in from the cayes, but now you have to get him into Ladyville. You can't just put an 11 foot croc in the back of a bus?"
Vince Rose, ACES
"Well you can - just no one wants to do it really."
"Actually Quality Poultry has offered to put it i one of their big trucks if I can't get him in my truck. I can't put him in the back of my pickup truck because a crocodile will die in 30 minutes in direct sunlight if his mouth is tape shut. The whole thing about people seeing a crocodile with his mouth open - what he is doing is panting like a dog - cooling himself down. We are going to try shove him inside the cab."
"The more I lock him inside the cab tight - the less he will move around. He's going to know he is being held down and he won't fight as much. I dint know if he will fit yet. This will be the biggest croc I put inside the cab with me."
Jules Vasquez
"What are the risks all the while as you all are transporting him and as you all have him here presently?"
Vince Rose, ACES
"If he decides to go berserk, it's a 700 pound animal throwing his body every which way he can which Chris is going to be on top of him and I will be driving - I'll probably have to slam on the brakes and jump out of the truck and then tackle him."
"The key is if I can wedge him between my seats he won't try and fight. He is only going to fight when he feels us release him. He is going to save all his strength for when we release him."
Jules Vasquez
"You don't think this crocodile should be killed even though he has no fear of humans, he is a pest eating people's dogs - you are not a favor of euthanize him even an animal like this."
Vince Rose, ACES
"For the last 10 years we've been counting crocs and the numbers are going down extremely high and that's bad. Belize was supposed to be scientifically from all the crocodile specialist groups Belize was supposed to have the highest numbers of the American Crocodiles left in the world. Our numbers are showing they don't. They don't even have half as many."
"No we are talking about an endangered species which Belize could lose. If Belize doesn't start protecting them, you won't have any in 10 years because most people fear crocodiles and most people want to kill them. I understand the fear and I understand that it's a scary giant animal, but it is important to have in the environment."
Despite the cramped conditions, Rose and his Australian Assistant got the Croc to Ladyville without incident.