Posted By:

Marty
Campaign To Encourage Reading -

03/24/11

02:34 PM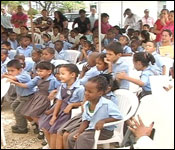 And while that prominent educator has launched a new book, who will read it? Sad but true, in the age of the electronic everything, the art of book-reading is falling by the wayside.
And that's why the Belize National Library Service has launched a national campaign to encourage reading in children at all levels. To mark the launch of the reading initiative, the Special Envoy for Children, Mrs. Kim Simplis-Barrow was invited to read to a group of school children today.
Kim Simplis-Barrow, Special Envoy for Children
"The Focus is indeed to get our children reading again, and not only in schools, but at home. The focus is also to get more parents involved getting their kids to read. I think that we all should be reading at least one book for the week with our children. We all know the statistics that once you read to a child, especially when fathers read to their children,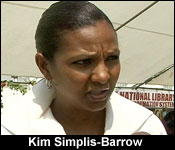 that really improves their educational standard. So it's so important and I am really happy to be collaborating with the National Library on this initiative."
Today's launching of the Will You Read Campaign seeks to encourage parents, religious leaders, educators, and other influential members of the community to read to children.