Posted By:

Marty
Chess Olympiad -

05/26/11

02:43 PM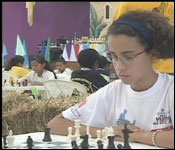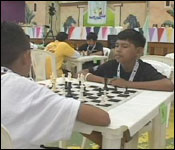 The fourth annual Chess Olympiad was held on Saturday at the UB Gymnasium in Belmopan.
In terms of theater, the event lived up to its reputation as the opening ceremony featured scores of entertainers, including a Grand Wizard, King and Queen, Garifuna dancers, jugglers and dancing clowns.
And while that set the mood nicely, the action was about the more than 200 qualifying players ranging in ages from 5 to 85 who kostled for pride of place in the nine hour event.
With footage and interviews courtesy OXA productions, we found out more about the event:
Jim McFadzean Reporting:
Ella Baron Anderson - Program Director, BNYCF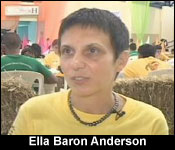 "The most exciting thing, it's not just the number of kids, but it's the fact that it's the same kids who started to work with us, or we started working with them. They're still with us, but there's more and more interest growing. To give an example, it doesn't matter which district wins. For as the most exciting thing is that it's such a huge participation of all the districts, and the kids from different districts. A lot of times they train together, so it's just competition - 'Oh, my district wants to win' - they are actually like a big chest family, and that's exciting as well. Famous countries in the world, people don't know that chess is so much fun, and they don't want to know about- they don't want to read about it. So we are really excited that there are cameras doing the live coverage of it, just like any other sporting event. And now people can see that it's really tough, but it's also very exciting to watch it as an audience. It's all day long, but you the round developing; you see winner, or you see kids who are coming with different kinds of facial expressions, and it's all very dynamic. So it's not just sitting and watching something boring. It's really fun."
Anderson says there's international interest how chess develops and advances in Belize. And the attendance of International Grand Master of Chess, Maurice Ashley, is testament to that. Ashley says he is excited about what's happening here in Belize.
Maurice Ashley - International Grand Master of Chess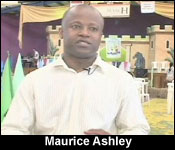 "I love what's happeing here in Belize, and you see the kind of love for chess and the kind of passion for chess that come in a small place. And relative to places like the United States and Russia, you are not going to have the same kind of technology that you see in those places as they do chess tournaments, but it terms of the love, passion, interest, the kids playing and coming from all of over the country, being mobilized into one place to play this game, and all other activities - the stilt walking, music - the energy here is so tremendous, that I can say without any question that I'm as passionate here as I am at any other tournament I've been to."
2 time champion, Alfred Awe who won this Olympiad's 15 and over category says chess is the perfect sport for him.


Alfred Awe - 15 and over Champion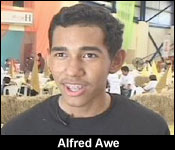 "Personally, I'm a guy who likes tactics, strategy and warefare. So this the perfect game for me. I think that you get more tired playing chess than actually running around on a football field or so. I play only chess and basketball; those are the only two sports that I play so, I don't really do much. Personally, I prefer aggressive play. You know that they say, 'The best defense is a good offense'. If you continue to attack your opponent, they wont have time to defend, so it's good that way."
More than 200 players participated in the Fourth Olympiad including teams for the first time from Guatemala and Mexico.