Posted By:

Marty
Belizeans Get Mexican Scholarships -

07/22/11

02:18 PM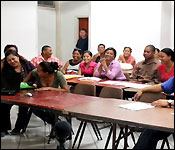 The Government of Mexico has awarded scholarships to 15 Belizean students to study in that country. The scholarships were granted through the National School of Professional Technical Education - known as CONALEP - as part of an agreement with the Ministry of Education in Belize.
The scholarships are between three and four years and includes registration and tuition fees, as well as a monthly allowance.
The students will be studying Nursing, Telecommunications, Electricity, Tourism, Catering, Food Industry and Optometry at different CONALEP campuses. Mr. Mexico, Marcelino Miranda told us more:….
Marcelino Miranda, Public Relation Officer for the Mexican Embassy
"The Government of Mexico has awarded 15 scholarships for Belizean students. They are going to start in August. This is 15 scholarships to study at the technical level of the most important technical professional institute in Mexico. this is the CONALEP, the CONALEP has different campuses across Mexico. So the Belizean students are going to go different cities in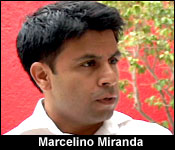 Mexico. Depending on the program they are going to study in Mexico from 3-4 years. Mexico is providing them tuition fees and a monthly allowance for them and also Mexico is paying for the transportation. This is a program that has been running between Mexico and Belize for the last 10 years. The Belizean students are going to different programs, among them, nursing; we have more than 6 students who are going to take nursing. Also we have a program in information technology, tourism and food industry."
"An important feature of this program is that the Belizean students have to come back to Belize. They are going to sign a letter in which they have to commit themselves to come back to Belize in order to contribute to the development of Belize." This scholarship program between Mexico and Belize has been ongoing for the past 10 years."
And in other news form the Mexican mothership, Belize City Mayor, Zenaida Moya and councilors were in Chetumal yesterday. No, they weren't shopping at Sam's Club, they were there to meet with that city's Mayor, Carlos Mario Villanueva, and other municipal officials.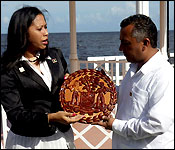 Moya and the delegation discussed the strengthening of the close relationship the two sister cities enjoy. According to the Quintana Roo daily newspaper, Vision Peninsular, Mayor Moya expressed her city's interest in exploiting the geographical proximity between the two countries, while Mayor Carlos Mario Villanueva expressed his city's commitment to improve and strengthen economic activity between small and medium enterprises.